Christmas is a magical season, and the perfect time to get together with friends and family to recount the year's events, anniversaries and milestones. We would love to welcome you here at Imperial Hotel & Restaurant on the east coast of Norfolk, opposite the beach in Great Yarmouth this December. Whether you're visiting for a meal, or staying overnight we guarantee a memorable time. Alternatively, or maybe as well, if you enjoy celebrating New Year, our New Year's house party might be right up your street.
The festive season means many things to many people, as not everyone celebrates Christmas. The Winter Solstice, which this year falls on Sunday 22 December, is also the shortest day and the longest night of the year, after which the days start to draw out again.
Whatever your plans, most people recognise that it's the time of year to reflect, to assess, to take pride in what has been achieved and to take stock, ready for a new year, and to congratulate friends and family for successes along the way. Feasting on fabulous food also features quite highly on people's priority lists!
It's our first Christmas as home to a 2 AA Rosette restaurant, one of only a very few in restaurants in Norfolk to achieve such an accolade, so Café Cru and our fabulous chefs have also got something to celebrate.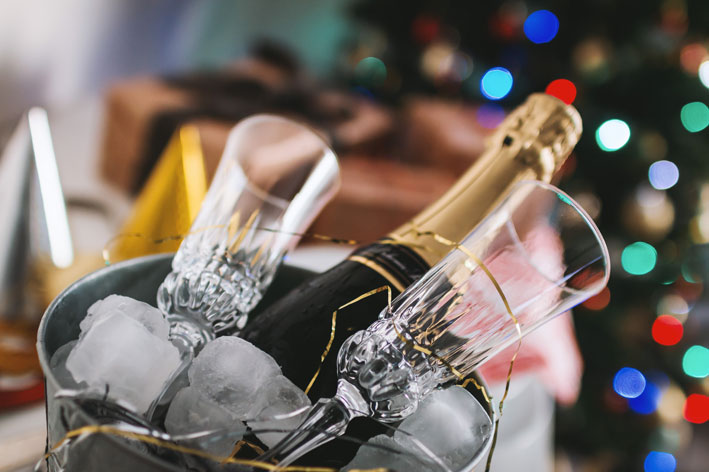 Our talented chefs, Daniel and Peter have been perfecting our traditional Christmas Pudding recipe, which you wil be able to see in the November editon of the EDP Norfolk Magazine. Many other fragrant cooking smells were wafting out of the kitchens as we finalised our festive menus earlier in the year, making ready to serve mouth-watering Norfolk fayre in our restaurants and dining rooms. Don't just take our word for it, do come and try for yourself.
However you are thinking about celebrating, the Imperial Hotel has a delicious menu, talented chefs, an acclaimed Norfolk restaurant, several function rooms in varying sizes, a superbly curated wine list and a wonderful team of Christmas elves at your disposal. We would be delighted to help you plan whatever Christmas festivity you have in mind. Simply call us on 01493 842000 to discuss your ideas.
You might be thinking about an intimate dinner in the Café Cru Restaurant for just a few friends in the run up to Christmas. Or maybe, given the number of friends and family you'd like to gather together, one of our private dining rooms would be a better option. Perhaps you have a group of colleagues who aren't that keen on Christmas Party nights with disco dancing, but you'd love to get together for lunch or dinner, either in the restaurant or on The Terrace, weather permitting, or if you'd prefer, in one of our separate dining rooms. Whatever your thoughts, we would be delighted to make your Christmas wishes come true.
For seasonal dinner parties whether at lunchtime or in the evening, the Imperial's festive menu features traditional turkey as well as roast beef, an exquisitely cooked fish dish and an imaginative and flavourful vegetarian option. Dessert includes the Imperial Christmas pudding, a dark chocolate delight and a tangy citrus fruit option. Food allergies or intolerances and other dietary requirements can easily be catered for, please do let us know about these at the time of booking so we can ensure everyone gets the most delicious meal possible.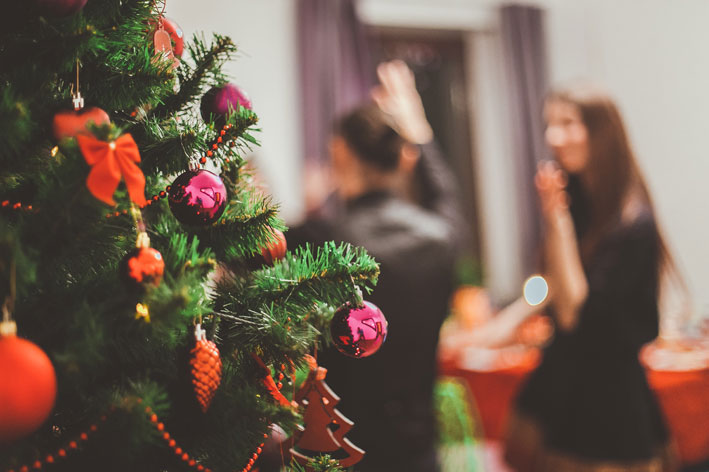 Festive lunches or dinners are available from Wednesday 4 December to Tuesday 24 December. A two course meals costs £22, a three course festive lunch or dinner costs £26 per person.
Café Cru Restaurant is incredibly cozy at this time of year and full of festive cheer, with a full bar and the choice of sitting at a table or in a booth for you and your group. If you're keen for a breath of fresh sea air, even in December, festive lunches can also be served on the Terrace, with snuggly blankets and overhead heating, although if the weather is too tempestuous or snowy, we may have to move your table inside.
Festive lunches will be served Monday to Friday from 12noon to 2pm. Festive dinners are served Monday to Saturday from 6.30pm to 10pm. Please kindly note there is a £10 per person deposit for groups of 8 people or more.
Our full à la carte menu is also available in Café Cru Restaurant throughout the Christmas and New Year festivities if you're up to your eyes in turkey and would rather celebrate by eating something completely different.
And don't forget - if you'd rather not book a taxi or debate whose turn it is to drive home, you can simply retire upstairs to bed. At just £70 for a classic king or twin room, or £90 for a sea view twin or king room throughout December, plus a delicious breakfast the following morning, you can turn your festive meal into a festive mini break. Please call us on 01493 842000 to secure your room at these special festive rates.