Our fabulous Executive Chef, Dan Lawrence, who's been with us here at the Imperial for just over two years could be said to be somewhat cock-a-hoop this week, when he's not perfecting his coq-au-vin that is.
We're celebrating some rather marvellous news – at our recent annual AA inspection, the Café Cru kitchen team were awarded not one, but 2 AA rosettes for our fabulous new menu featuring some truly mouthwatering dishes.
Café Cru is the gourmet restaurant below decks here at the Imperial where our à la carte menu has had a bit of a makeover, overseen by Dan Lawrence and supported by Peter Clarke and Leigh Scofield.
We've always been proud that the Imperial has held a single AA rosette for delicious dining since 1991, and our marvellous chefs have ensured we've maintained this rating for the last 28 years, until we were awarded the second rosette last week at the start of July.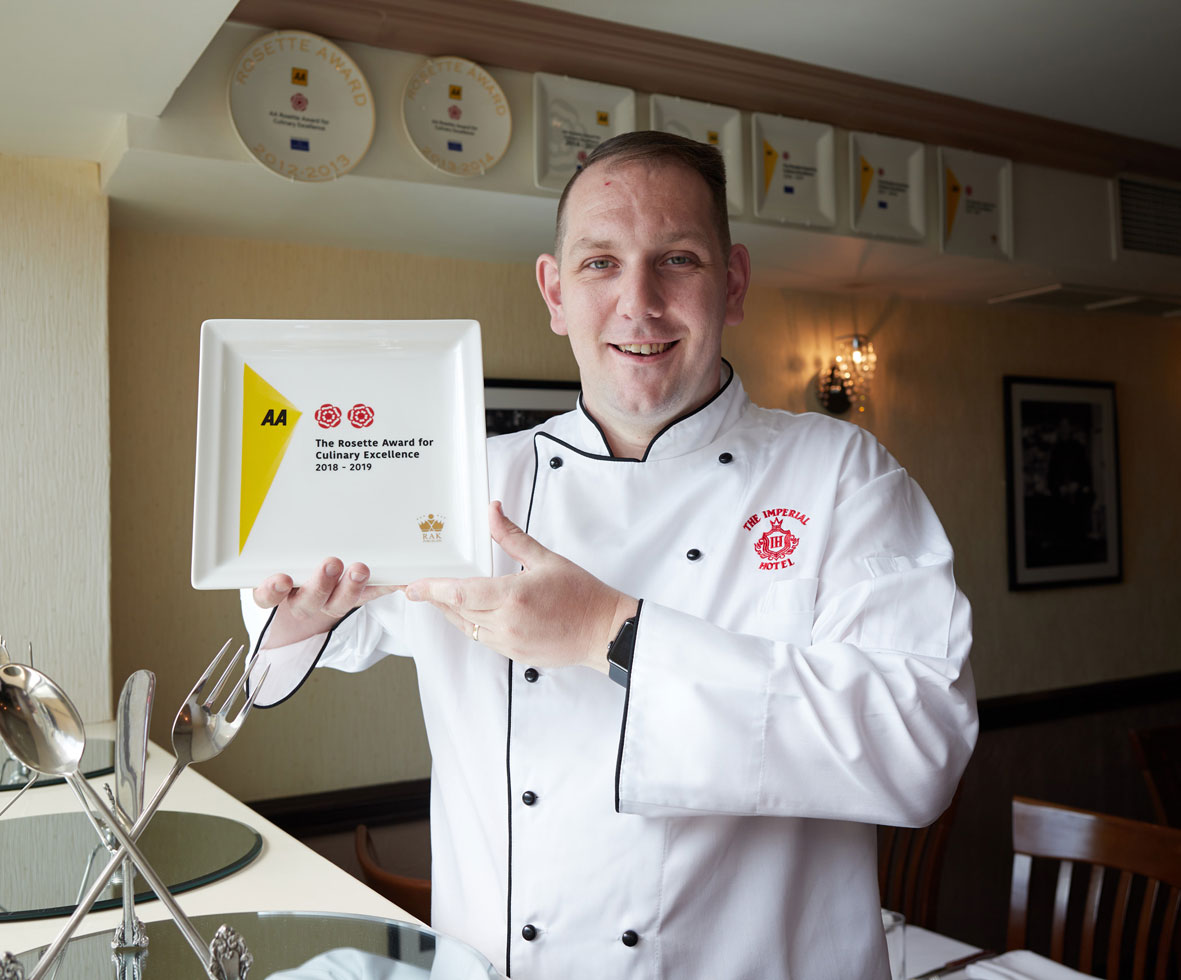 So what's all the fuss about? AA awards are made solely on the basis of visits made by one or more hotel and restaurant inspectors, who have an unrivalled breadth and depth of experience in assessing quality. It really is all about the food, and it's the taste of a dish that counts, and whether it successfully delivers to the diner the promises highlighted on the menu. A 2 AA rosette restaurant indicates the best local restaurants, of which there are less than 10% in the country. In particular, these establishments aim for and achieve higher standards, better consistency, greater precision with cooking and obvious attention to the selection of quality ingredients.
Feel free to check it out for yourselves; popular internet review sites completely agree with the recent inspector grading, with diners frequently giving the Great Yarmouth seafront restaurant full marks.
Dan's not that used to the limelight, preferring to be behind the pass in the kitchen, but something this exciting calls for an appearance upstairs.
Dan said: "I'm over the moon to have achieved the second rosette. Over the course of the past year, Peter, Leigh and I have changed and updated the entire à la carte menu to include more options than ever before for each course, reinventing and refining dishes, incorporating the finest local, seasonal ingredients. We've all had a hand in the new menu, and we've all been completely focussed on taking our cuisine to the next level. It's been a lot of hard work, but totally worthwhile. I couldn't be prouder of the team."
As a local Great Yarmouth boy, Daniel grew up in Gorleston-on-Sea and attended Yarmouth College to learn his craft, working at a number of other hotels and restaurants in and around Norfolk and Suffolk once qualified. Two years ago, he took over the reins in the kitchen at the Imperial, and convinced proprietor Nick Mobbs that the time was right to aim for the next level in food adventure on Café Cru's à la carte menu.
Dan freely admits that it's been a long-held ambition to achieve two stars for his cooking, ever since his teenage days as a waiter in the hotel, in awe of the one rosette reputation even then.
Daniel said, 'Subconsciously, I was aware of the level required to achieve 2 rosettes, and deep down, I wanted to push for it, but I also wanted it to happen quite naturally, as a sign of significant progression. When we decided to go for it, we completely reworked the à la carte menu in Café Cru, looking for more in-depth, more inventive, more flavoursome dishes, from starters to puddings, dishes which would really excite. Each chef has a notebook where we jot down ideas and thoughts, combinations and ingredients and when we start to work on a new menu, we pool our ideas and see what flavour combinations we like the sound of. It can lead to some very heated debates between Peter, Leigh and me.
Dan goes on to explain, "We're really lucky here at the hotel that we've got some lovely regulars who are happy to be a guinea pigs if we're trying something different – and they won't be backwards in coming forwards in telling us what they think of any new dishes. The daily specials menu may give our guests an inkling of our plans for the new fine dining menu, as this is where we tend to test out dishes we're working on. The ideas behind a new menu are generally at least two months in coming to fruition. Everything we put on the menu is sampled thoroughly by the serving team too, so that everyone knows what dishes taste like and can provide recommendations to guests who are deliberating between one option or another.
Main meals on the á la carte menu include at least two exquisite fish dishes, for which the restaurant is renowned, a choice of three meat dishes and a vegetarian options, as well as the daily specials.
Image: Trio of Suffolk Pork
The Imperial Hotel - Great Yarmouth, has three restaurants, open daily to anyone wishing to book a table, as well as to guests staying at the hotel. The team serve meals from breakfast to dinner every day of the week and pride themselves on superb customer service. Each restaurant has it's own varied menu featuring a range of dishes, from traditional to modern, including vegan and gluten free options. A continental breakfast on The Terrace costs £7.50; sandwiches and light lunches in Bar Fizz or on The Terrace start from £6.95 with hot lunches priced between £11.50 and £16.00, or £18.50 for a two-course lunch. A special children's menu is also available.
Test it out for yourself - tables can be booked online for all dinner services, or give us a call on 01493 842000. We look forward to seeing you soon.