Our fabulous proprietor, Aileen Mobbs, is honoured to be receiving the highest accolade in Great Yarmouth on Monday 9 December 2019, when she becomes only the second woman in history to be awarded the status of Freeman of the Borough.
We haven't dashed out just yet to buy a flock of sheep for her to take to graze on the Market Place now she has the freedom of the borough, but we have got our best frocks on for the civic carol service at the Minster where she will be honoured by the townspeople of Great Yarmouth for her outstanding work with the Maritime Festival and her many, many years of volunteer work on the local talking newspaper for the blind.
Aileen came to Great Yarmouth from Scotland via London when she married Nick Mobbs in 1987, having never really been to this part of the world before. She quickly got stuck in, realising that it's incredibly important to be part of the community.
She's perhaps more widely known for her incredible work with the Maritime Festival, about which the Tourist Office made a film a few years ago. But she's also found time to pack a lot more in, and you can read about it all here.
Unusually, Aileen was brough up living in both Kenya and in Dunblane, Scotland. Having taken her A levels she wasn't really sure what sort of career she wanted to go into, so decided to read a BA in Hotel Management and Catering at the Scottish Hotel School at Strathclyde University, where she met Nick.
The Hotel School insisted on industry experience, and so Aileen's first university work experience stint was at the British American Tobacco Company where her godmother had worked for more than 30 years. The company had 2 staff restaurants, private dining rooms and a flat which all had to be catered for over the summer holidays.
Aileen's French is pretty good (which has come in very handy for twinning association visits with Rambouillet) because her second summer holiday work experience was spent working on the catering team for all airlines flying out of Orly airport in Paris. She arrived in the French capital Paris with an Irish girl from her course with less than 48 hours to find a place to stay. By complete chance, they met a stranger in a bar who told them to go and look at the American Church noticeboard. Ex-Pats heading home for the summer would advertise properties with short lets and voilà, sure enough, they found a 2 bedroom apartment for them to stay in for the summer. (In a case of what goes around, comes around or déjà vu, when daughter, Maddie, went to the Sorbonne to study a few years ago and needed to find a place to stay, the Internet wasn't as useful as it could have been, but the American Church noticeboard didn't let them down, 3 decades later!)
After university, Nick and Aileen's paths took a different course for a few years, Nick went straight back to the Imperial Hotel and Aileen went off to London.

Initially, Aileen went to work for the Contract Catering Group, CCG as the Assistant Catering Manager for Arthur Young Accountants for 2 years, serving food for the staff canteen. She then moved via CCG to work at City Bank, a brilliant job on Strand Island, where they had two staff restaurants feeding up to 1000 people every day, plus they catered for private dining and outside events.

If the traders did a good deal on the trading floor, they would ring down and ask for 20 bottles of champagne to be sent up immediately, which was great fun. She also remembers catering for a private birthday party for 200 people with a string quartet and having to load all the food they had prepared in the company kitchens into 20 black cabs and transporting all the food, equipment and staff across London to the National History Museum for the event. She was still working at City Bank when she and Nick got married in 1987 and she moved to Imperial Hotel.
Aileen and Nick have worked side by side ever since, not only sitting next to each other in the small office, but also working side by side at functions, events and throughout the hotel. Life running a hotel was and still is jolly hard work, and has been a second home to their two daughters, Maddie born in 1991 and Heidi born in 1994. Nick used to work split shifts, always with the opportunity to walk their beloved dog, of which there have been two, and Aileen also found time to volunteer on Grapevine Talks newspaper.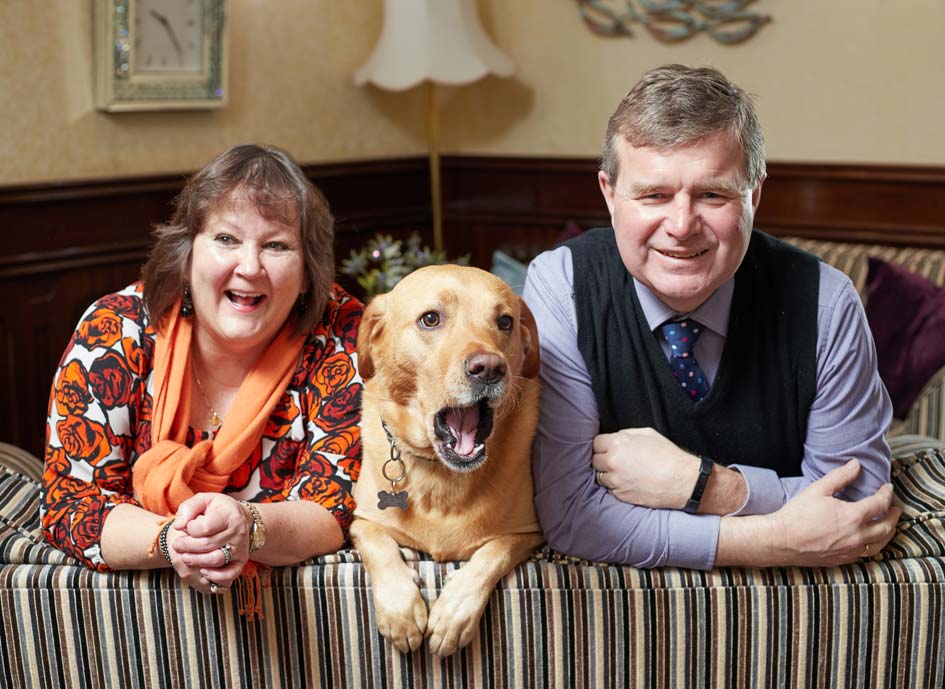 She was inspired to volunteer by a man she sat next to on a bus when on a school lacrosse trip to London from Scotland 10 years previously. They had chatted for 6 hours before Aileen realised he was blind and only then because he felt the time on his watch through a flap in the glass. He had a Braille kit which he showed to Aileen and she was amazed at how the tiny bumps in paper enabled him to read. Recalling this gentleman, Aileen joined Grapevine Talking Newspaper as a reader when she came to Great Yarmouth.
Back then, they used to cut out the articles and readers would record themselves reading the stories out loud onto cassette tapes. Over time production has progressed to CDs and now memory sticks and Aileen is now a link person and narrator with slightly more techy equipment. Nowadays, Grapevine has 4 teams of people who volunteer once a month to work solidly for 4 hours every Friday afternoon from 4pm to 8pm to read and record The Mercury in time for the last post, so that blind people in the borough receive their recorded version of the newspaper in the mail on Saturday morning. It is a race against time every week, but Aileen feels it's a pretty poor show if you can't give up 4 hours of your month, even if it is a Friday evening, one of the hotel's busiest times.
With their love of French and France, Nick and Aileen have always enjoyed participating in the town's twinning visits with the folks from Rambouillet, either hosting visitors at their home or visiting France themselves. And their two daughters, Maddie and Heidi went to stay with the French familiy they had become friendly with when they were old enough. It was due to these relationships, that Café Cru Restaurant was originally called the Rambouillet restaurant.
Nick and Aileen have always felt it is very important to support your local community and give something back to the town. They supported the tourist board's Publicity Association venture from the start, Aileen was on the board of the Great Yarmouth Chamber of Commerce and a governor at Great Yarmouth College, and they were founding members of the Greater Yarmouth Tourist Authority in 1999, with Aileen taking up a position on the board as one of the 5 private sector directors.
At that time, she was appointed the Events Director, and started to think about what sort of big event the town could host. A number of locals joined an events sub-group and came up with all sorts of ideas from re-enactments to balloon festivals, concerts and then the late, great Ernie Childs suggested a Maritime Festival.

Even in 2000 there was all sorts of health and safety to consider, but they held the first festival on South Quay in the September of that year, and welcomed 10,000 people. That first year they had no toilets, no seats, and no covered areas, but a lot of fun and people really enjoyed themselves, With the help of a European funding grant, they grew the festival for the next four years, then became self sufficient with the help of sponsorship from many local businesses involved in maritime work and some funding from the council, and help from their tourism team. And so Aileen became the Chairman of one of the most successful festivals in Norfolk, welcoming tall ships and all sorts of other maritime vessels, together with almost 30,000 people from all over Norfolk, many of whom had never been to Great Yarmouth before over the two day event by the time she chaired her last event in 2018, 19 festivals later.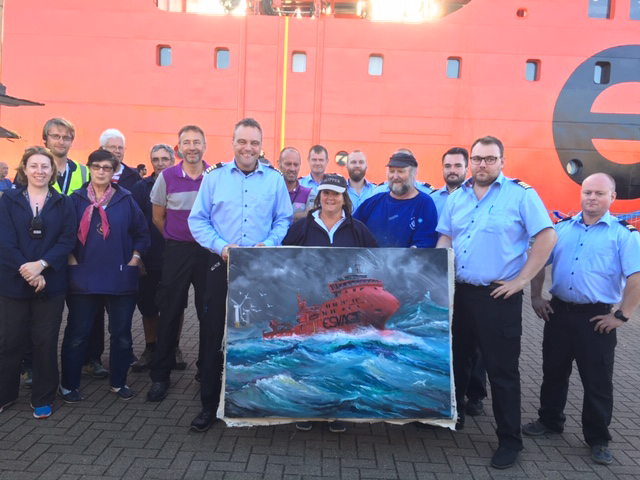 Continuing their theme of supporting the local community, Aileen is now an Honorary President of the Greater Yarmouth Tourism & Business Improvement District, and Nick is about to become Captain at the Great Yarmouth & Caister Golf Club. All this whilst Aileen is considering which project to throw herself into next whilst trying to improve her golf, and continue to run their busy hotel.
A worthy recipient of the Freeman of the Borough we think you'll agree.