Why a Scottish Burns Night celebration in Great Yarmouth in Norfolk of all places? And just what's so Scottish, other than the tartan carpet in reception, about the Imperial Hotel that means a Burn's Night celebration is de rigeur in the hotel's event calendar?
For those who are interested in local history, there have been close ties between Great Yarmouth and Scotland since the late 19th and early 20th centuries, when 'fisher girls' would arrive in Great Yarmouth to help gut and process the herring catch. These young Scottish ladies would travel the length and breadth of the country, following the shoals of herring as they migrated around the British Isles, bringing valuable skills and much needed additional resources to the area every October. With 530 million herring to deal with every catch in Great Yarmouth, so it is said, you can imagine that this was no mean feat. All hands were needed on deck, or more accurately on the quayside, to ensure all the fish were filleted as quickly as possible.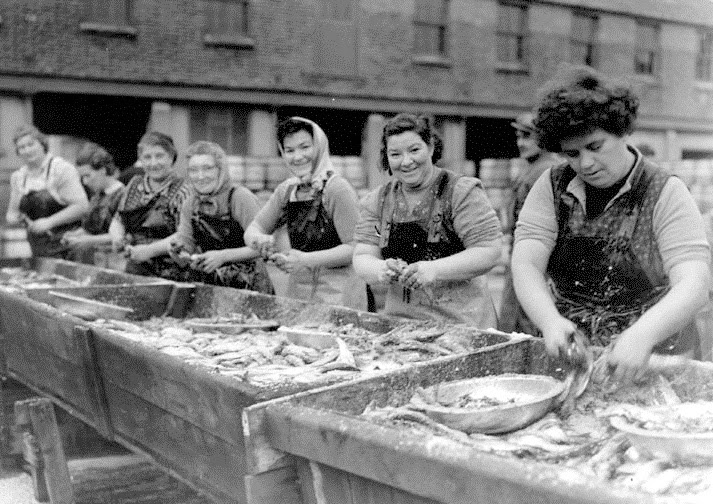 This fantastic picture is courtesy of Great Yarmouth's Heritage Guides, who run fascinating heritage walks locally from Easter to October.
Once the herring moved on, so did the fisher girls, until the next year. Over time, deep bonds formed between fisher girls and the locals, with many landladies welcoming the same fisher girls, and then their younger sisters and then their daughters into their homes every autumn. You can find out more about the 'Silver Darlings', as herring are locally referred to and our Scottish friends in the Time & Tide Museum of Great Yarmouth - multi-award winning and well worth a visit, especially as it is housed in a former Smoke House, is open all year round and has a rather nice café. If boats are more your thing, the Lydia Eva, affectionately known as the last steam drifter, - a type of boat used for catching herring in the 1930s - is open from Easter to October on South Quay.
We digress however. Back to the Imperial Hotel's Scottish links and relations. As visitors may know, Nick's Grandpa, Campbell Lindsay, who ran the hotel from 1933 to the late 1960s, hailed from Aberdeen in Scotland. He too made the journey to Great Yarmouth with the fisher girls as the dispatcher for 5e herring. He fell in love with both the resort of Great Yarmouth and one Louisa Delf, so decided to stay in Norfolk and run the Imperial Hotel and Restaurant. This was perfect timing as the herring industry was to significantly decline locally in the late 1930s.
When the time came for current proprietor, third generation Nicholas Mobbs, to attend university, he chose the then renowned Scottish Hotel School at the University of Strathclyde to read Hotel & Catering Management and complete his hospitality education. Nick travelled 400 miles to Glasgow from Great Yarmouth every September, ready for the academic year and developed a real love of the Highlands and Scottish life.
Nick and Aileen met at the Scottish Hotel School in 1981 and married in 1987. Aileen's parents both come from Dunblane, where they grew up next door to each other. Her dad worked for a Scottish company called James Finlay & Co, who was a textile manufacturer, tea planter and merchant, based in Glasgow. Dealing in tea, Aileen's family spent a lot of time abroad, mostly in Kenya, but always came back to Dunblane where her parents eventually retired. Over the years, Nick has become an avid fan of Scottish whisky, fishing, St Andrews, the golf course and wearing plus fours, those very attractive knickerbocker-style breeches which finish precisely 4 inches below the knee. He draws the line at wearing a kilt though, so has some rather fetching tartan trousers in Lindsay tartan instead. Nick also discovered Aileen's brother's bagpipes in her parent's attic and taught himself to play, perfect for celebrating Burn's Night in Norfolk. To this day, the whole family enjoys holidaying north of the border whenever they can get away.
With all these Scottish links, it's little surprise therefore that the Imperial Hotel hosts an incredibly popular, very lively, Burn's Night event with a Cèilidh and Scottish themed dinner, usually biennially in January.
Robert Burns (1759 - 1796) is Scotland's national poet and despite his very short life, during this time he penned some of the world's most instantly recognisable lines of poetry and song lyrics. He is renowned for his work focussing on the themes of love and nature and in just 37 years, wrote hundreds of traditional ballads, romantic songs and thought provoking poems. You might think you've never heard of him. It's certainly true that very few people know the words to the second verse of Auld Lang Syne, the song we all sing at the strike of midnight on New Year's Eve. But everyone knows the first verse where we promise to ''tak a cup o' kindness" with our neighbours as we go forward into the new year; lyrics penned by Robert Burns. And for the romantics you might recognise the quote, "My love is like the red red rose, that's newly sprung in June ..." part of a longer verse also written by the Scottish National Bard.
There's a very traditional bent to Nick & Aileen's fun Burns Night Celebration, which has to include bagpipes, the Celtic Grace, a Toast to the Haggis, recitations of the Immortal Memory, a Toast to the Lassies and Lassies' Response, followed of course by dancing to a Scottish cèilidh band. And at the Imperial, it's all served up with a delicious four course Burn's Night menu, cooked with flair by Daniel & Peter, the Norfolk Café Cru 2 AA Rosette Restaurant's in-house chefs, who bring their interpretation of the slightly more staid traditional menu to life with a flourish. Haggis, the Imperial way, is a far more refined affair...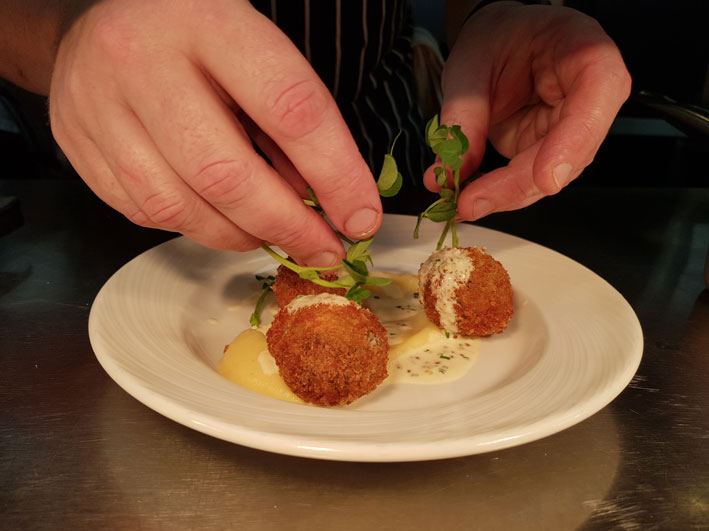 Burns Night is traditionally celebrated on 25 January, Robert Burns' birthday. And very fortunately Burns Night falls on a Saturday in 2020, allowing for a weekend celebration if you'd like, or a Saturday celebration and sleepover, and plenty of time on Sunday for a leisurely full breakfast on the Terrace. Non-residents also very welcome.
Join us for a really good fun night out this Saturday 25 January 2020. Black tie, tartans or lounge suit. Burns Night Dinner & Dance only for non-residents: £45 per person. Carriages 12.30am. Please call 01493 842000 to book.
Stay over afterwards on Saturday night and don't worry about calling a cab for just £87.50 per person* (£175 per couple).
Make a weekend of it, arrive on Friday 24th January and enjoy a meal in our Norfolk restaurant, Café Cru that evening and breakfast on the Terrace on Saturday morning. Maybe take a walk up to the Time & Tide Museum during the day on Saturday before the big Burns Night dinner and cèilidh celebration that evening. Burns Night Weekend £153.50 per person* (£307 per couple)
*Prices based on 2 people sharing a classic king or twin room. Sea view upgrade: £10 per night.
MENU
Cullen Skink
Smoked haddock, tattie, leek & chive broth

Haggis Bon Bons
Neep purée, coarse grain mustard cream

Roasted Rump of Scottish Beef
Fondant tatties, braised beef cheek, heritage carrots & Madeira jus

Vanilla Parfait
Toasted oats, raspberries, honey & Scottish whisky syrup

Coffees & Scottish fudge
*** Vegetarian and vegan options available, please advise of any allergies, intolerances or other dietary requirements at time of booking.***
Many thanks to Scots Music Group for their kind permission to use the lively kilt picture. If you've ever up in Edinburgh, they run regular cèilidh events and would love to welcome anyone from the Great Yarmouth, Norfolk area.