Once we decided to press ahead with Cru To You: à la carte lockdown ready-meals for Valentine's Day, as usual, we followed Nick's favourite mantra: if you're going to do it, do it well. So we haven't left anything to chance. First off, Daniel and Peter were asked to come up with their most delicious Cru to You cook-at-home menus, together with fool-proof instructions.
The fool-proof instructions were then scrutinised by several of the team, and little adjustments and tweaks made here and there to make sure that the meals would be cooked just so, and presented as beautifully as possible.
Presentation, we feel, is all part of the fun and adds to the occasion: a beautiful assembly of ingredients on a plate. And it's something we take a lot of time over here at Imperial Hotel. So if hotel food is to be brought to you, the instructions needed to cover not only the cooking, but also the presentation.
Because the thing is, when you're a chef with a serious kitchen, and blast ovens, and impressive gas rings, as well as many years experience, cooking is easy. But for the uninitiatied, who'd far rather book to come out to eat at Café Cru Restaurant, where fabulous food just appears in front of you, looking and smelling amazing; cooking and serving a fancy four-course meal can seem a little daunting. Even if it is followed with victory chocolates to have with your coffee.
So to ensure we really are offering something that anyone can cook and present, Grant declared there should be a practice cook-off.
The cook-off stars would be none other than Nick & Aileen in their home kitchen, and Grant and his lovely girlfriend in their kitchen, where there aren't any blast ovens or super-sonic gas rings. And take note: they're all fabulous Hotel Directors, but none of them is a Master Chef.
And then, cook-off succcessfully completed, we'd be completely confident that our lovely guests would be able to produce delicious and beautiful results from the comfort of their own domestic kitchens too.
Nothing ventured, nothing gained and all that. And as Nick's also fond of saying, he wouldn't ask anyone to do something he isn't prepared to do himself. So Peter came in early and prepared four à la carte main courses, and they were duly dispatched home.
In Grant's corner: Beef Wellington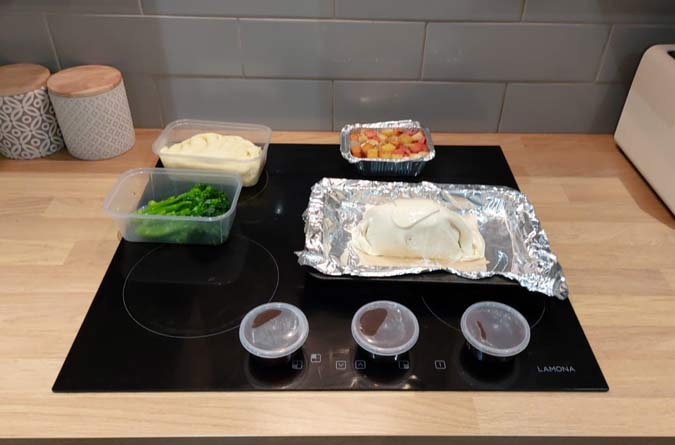 Once unloaded and displayed on the (cold) stove top, the Beef Wellington main course ready to cook ingredients looked just like this. All Grant needed to do was follow the instructions. And Grant's the first to admit he's no chef. But bingo! 30 minutes later, having been cooked and left to rest, the Beef Wellington was ready to carve: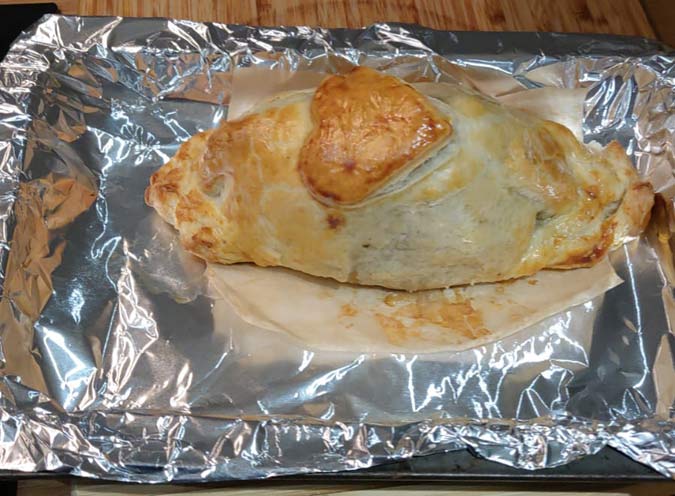 No soggy bottoms in Grant's kitchen! And we all agreed that the pastry heart is a nice touch for Valentine's Day.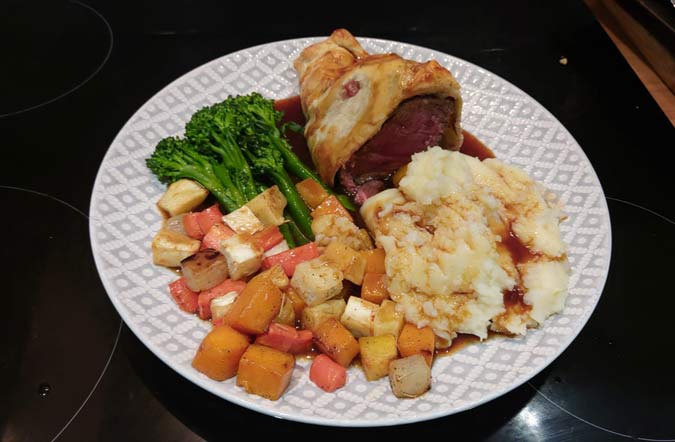 And voilá! One medium-rare Beef Wellington, with creamed potato, tenderstem broccoli and roasted root vegetables. Possibly the presentation could have done with a little bit of finessing, but it isn't Valentine's Day yet: Grant's got time to practice that bit.
And in the Mobbs' corner, Lemon Sole en Papilotte.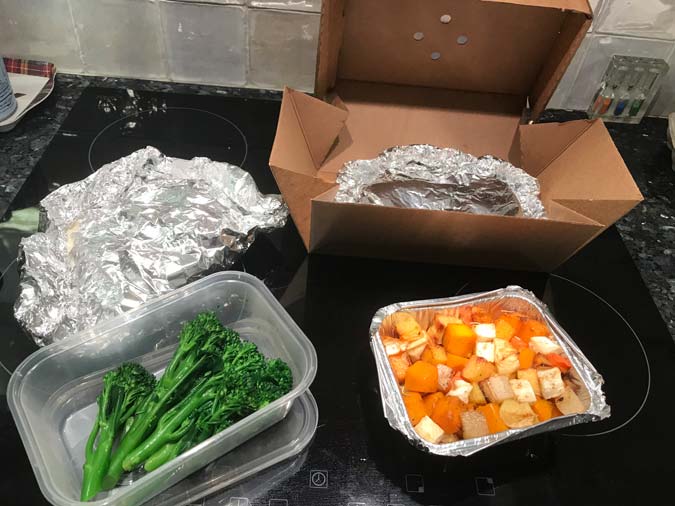 And here's what you get ready to cook. Aileen is very partial to a nice bit of fish, so it was no wonder they chose the Lemon Sole (menu two if you also fancy fish) for their dinner date.
'En papilotte' is a really easy method of cooking in which the food (often fish, and/ or vegetables) is put into a folded pouch or parcel and then baked. The parcel can be made from foil or baking parchment. The pouch traps all the flavours and juices inside and gives you a lovely hot and steamy aroma when you rip the bag open in a damatic 'ta-dah' moment.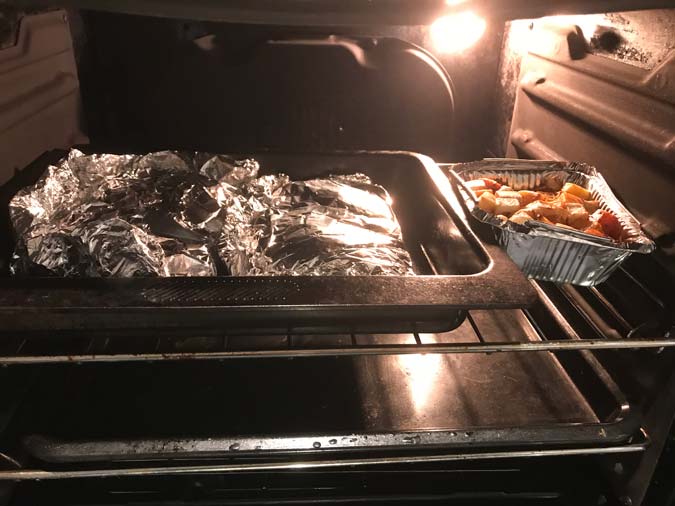 And after only 30 minutes, a lovely piece of fish, beautifully cooked in it's papilotte.
It has to be said, that we're all in awe of Nick & Aileen's amazing, multi-award-winning abilities as Hotel Directors, however cooking is not really their favourite thing. That's why we have chefs at the hotel! But a valient effort was nonetheless made with two delicious dinners served up.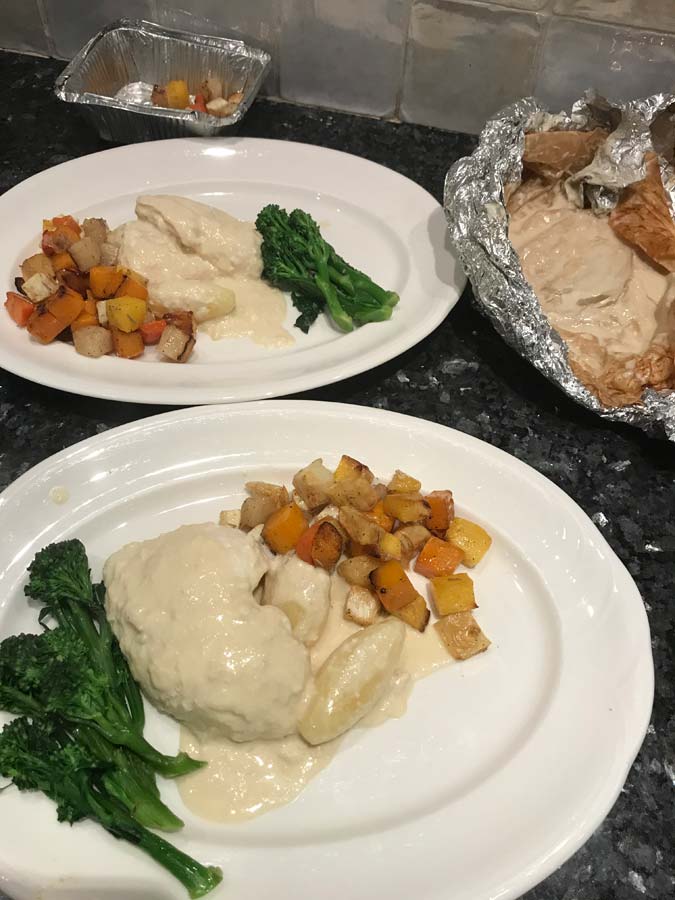 We're knocking off a few points for presentation: the cream sauce is missing a few freshly sprinkled herbs to give it that 'je ne sais quoi' element, but everything is piping hot, cooked beautifully and tasted delicious. Phew.
Feedback was duly given to the team and the fool-proof instructions made even more fool-proof, and now we're completely convinced that anyone can easily cook our delicious dinners in the comfort of their own home this Valentine's Day, whatever your skill level!
If you haven't ordered your cook-at-home à la carte ready meals yet, there's still time. Orders need to be in by 9pm on Tuesday 9 February. Take your pick from any one of our 4 menus and simply call us on 01493 842000 to book. You'll need to pay at the time or ordering, and we'll agree a collection time slot with you. You'll find all the details and some useful FAQs on the menu pages, but if you'd like to chat it through before you order, feel free to give us a call.