We love celebrating St. Valentine's Day, the patron saint of courtly love at Imperial Hotel. But 2021 is very different. No dinner dances or cosy dinners à deux can be permitted during the third national Coronavirus lockdown. But we're definitely romantics at heart here at Imperial Hotel. So we'd like to introduce Cru To You. It's something a bit different and fun for Valentine's weekend.
And so fear not, fine food aficionados! You shall still make your valentine's day on Sunday 14 February (or Friday or Saturday) by serving up a very special meal.
Because this Valentine's Day, seeing as you can't come to Café Cru, we shall bring Café Cru food to you! Our fabulous à la carte fine dining food is to be transformed into delicious dishes that you can cook at home. It's like a ready meal, but Café Cru style.
We've 'ummed and ahhed' about Cru to You since the start of the first lockdown, and we've finally decided we're going to give it a whirl, but for special occasions only. And this should result in delicious food being served from our kitchen to yours, but with as little hassle as possible. Hurrah. Valentine's Day suddenly feels a bit brighter!
Daniel and Peter have come up with 4 delicious menus, their cheffy instructions have been turned into something a little more fool-proof and suitable for domestic kitchens and voilà. We hope it'll be a meal to remember, for all the right reasons.
There are 4 menus to choose from. Each menu includes three courses of delicious Valentine's Day cook at home Café Cru food, plus artisan bread and nibbles to start, and delicious chocolates to finish, to go with your after dinner coffee. We're hoping Cru To You will make Valentine's Day 2021 suddenly feel a whole lot brighter. It might even turn into a very special Valentine's weekend dinner. You could choose to cook together, or perhaps one person will decide to surprise the other with their amazing cooking prowess!
All menus start with pre-starter nibbles: Artisan bread, lime and coriander hummus and Italian olives.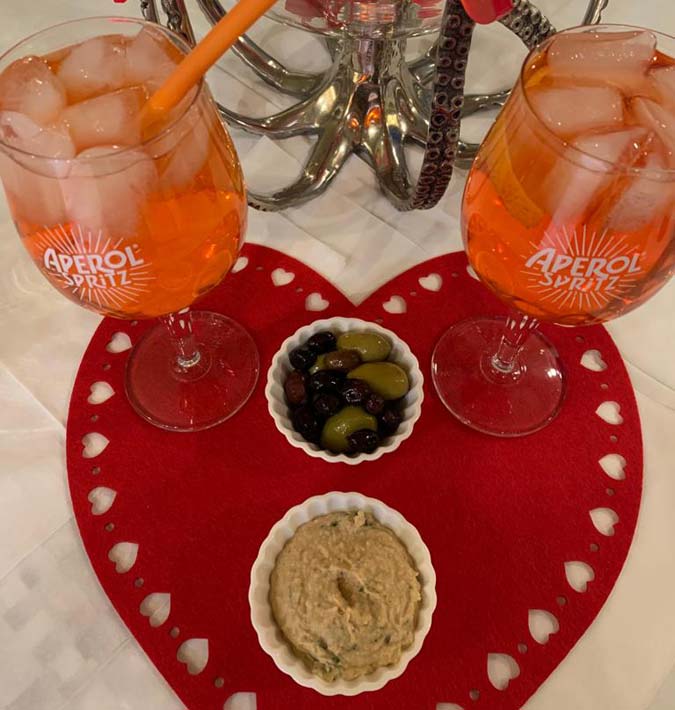 Menu 1
French Onion Soup with a Gruyère croute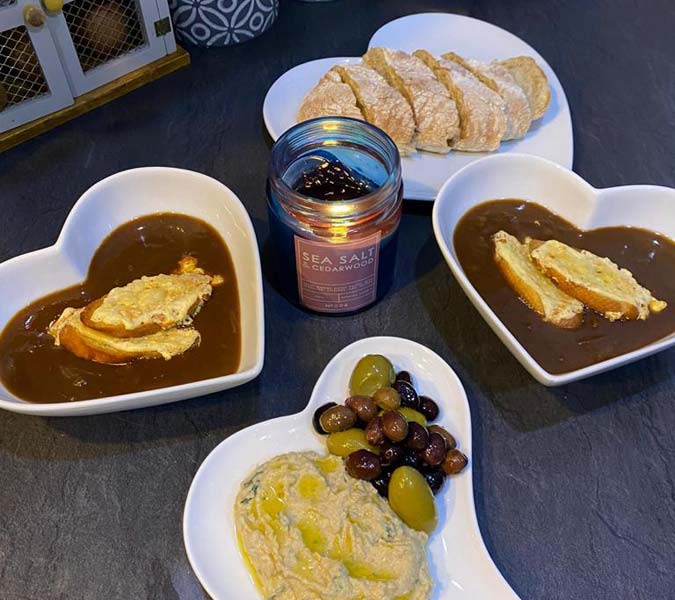 Roasted Breast of Norfolk Chicken (GF) with creamed potato, tenderstem broccoli, roasted root vegetables & forestière sauce

Strawberry & White Chocolate Cheesecake with vanilla cream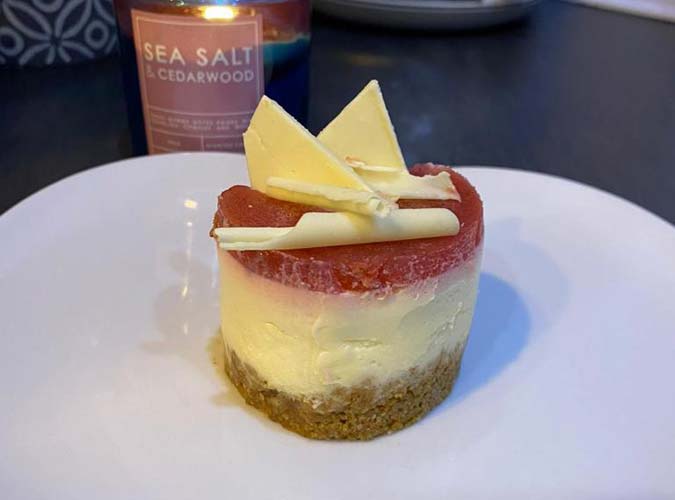 Menu 2
Course Chicken Liver Pâté with local fruit chutney and brioche toast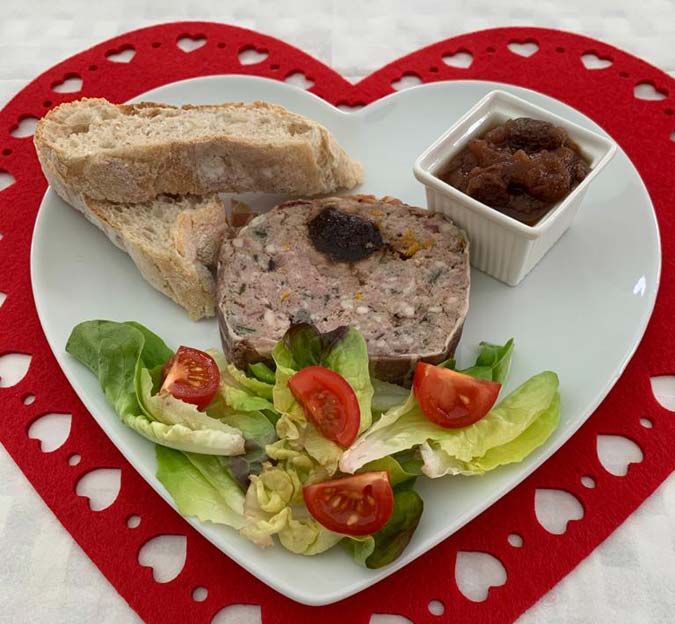 Fillet of Lemon Sole en papillote with cocotte potato, tenderstem broccoli, roasted root vegetables and cauliflower cream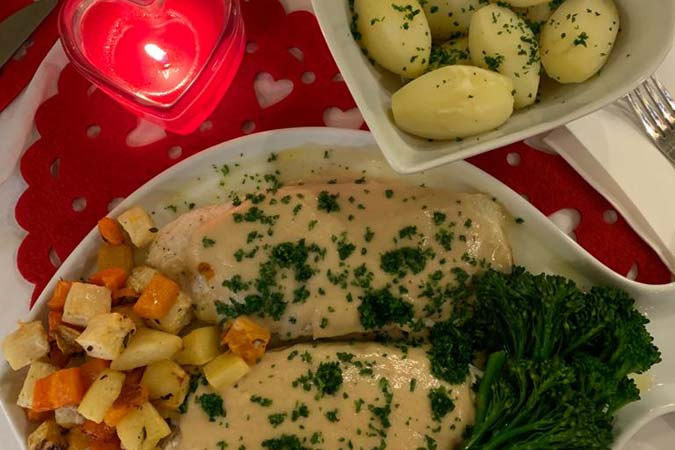 Cherry & Pistachio Tart with vanilla cream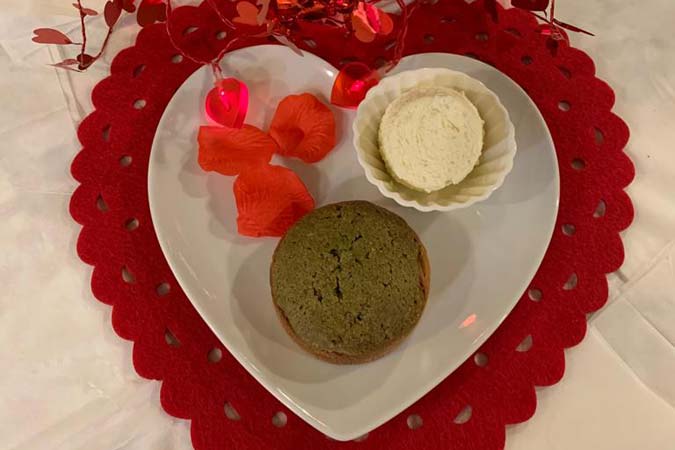 Menu 3
Smoked Scottish Salmon with avocado purée, quail egg, keta, baby leaf & citrus dressing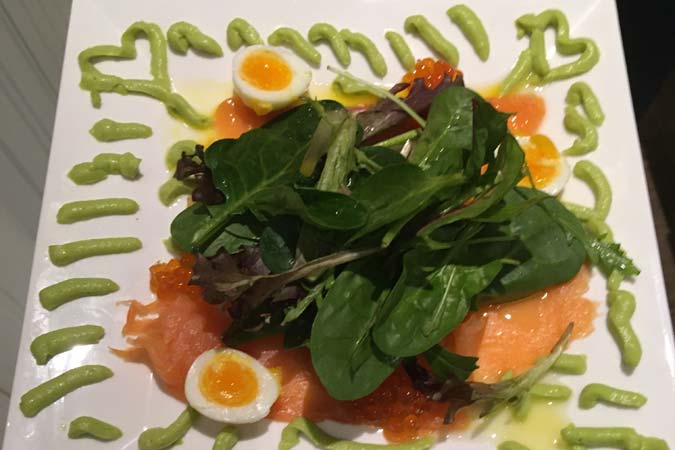 Imperial Beef Wellington with creamed potato, tenderstem broccoli, roasted root vegetables & red wine jus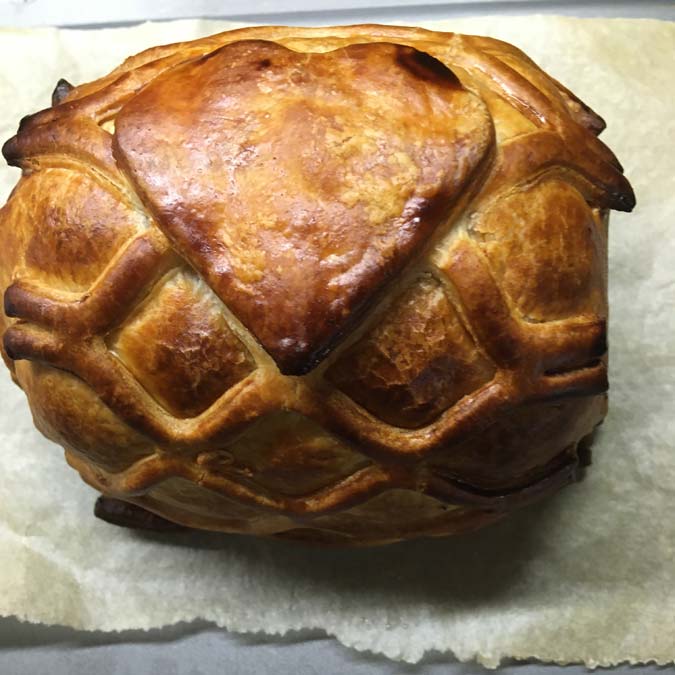 Dark Chocolate Tart with wild berry compôte, orange cream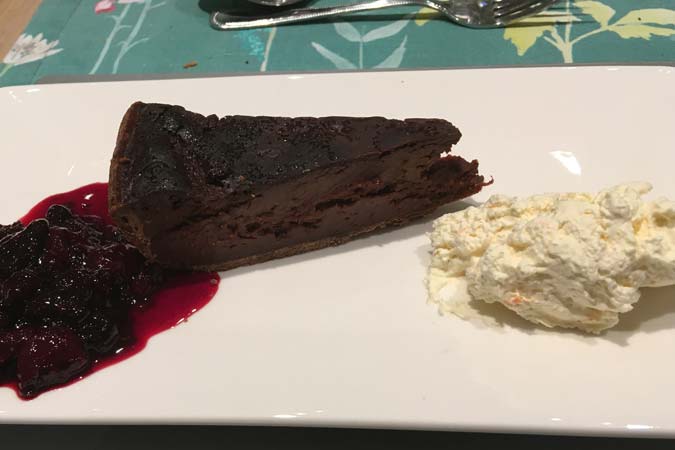 Menu 4
Leek, Gruyère and Mustard Tart (V) or Leek, Feta & Mustard Galette (VG) with Sweet mustard dressing, micro leaf
~
Artichoke & Truffle Pithivier with tenderstem broccoli, roasted root vegetables, sherry jus
~
Cherry & Pistachio Tart (V) with vanilla cream or Bakewell Tart (VG) with berry compôte

And all dinners finish with Caramel Chocolate Truffles, becasue dinner isn't Dinner without after-dinner chocolates. Not at Café Cru that is.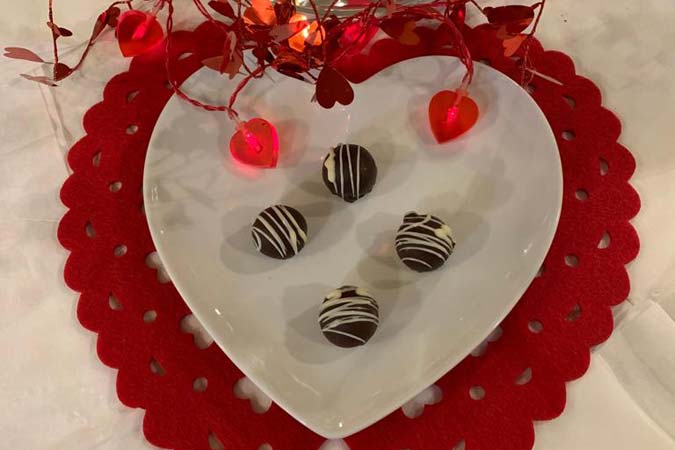 Monday 15 February 2021: Update:
It's quite unusual to return to a blog post several weeks after writing it to add to it with so many gorgeous photos. But Valentine's Day Cru To You has just taken place. And to our great delight, some lovely people who ordered Valentine's meals also took photos and sent them in to us today so we could see how they'd got on. Everyone had put in so much effort. Artistic touches entirely their own. Great compliments about our instructions and recommendations for serving too. (Thank goodness for the cook-off). Our guests' presentation is just lovely. And it makes our hearts sing.
Romance is still alive, even in lockdown.
Watch this space: Mother's Day might get a Cru To You makeover too ...