We're really happy to have re-opened Café Cru Restaurant. It's lovely to have a sense of normality back again as we carry on in these very strange times. Our team are, of course, all wearing masks as they serve you, but its times like this that certain design elements of Café Cru restaurant come into their own. We've made quite a few changes to ensure proper social distancing can be carried out downstairs, and to make sure that everyone, both guests and our fabulous team can feel safe whilst serving or eating in our 2 AA Rosette restaurant.
Regular visitors will know that we have five rather fabulous glass-screened booths in Café Cru. Each booth seats 4 dinner guests, and they've suddenly become even more popular than usual. We've really spaced out all the other tables, and have added frosted glass screens in some places to shield guests from passing traffic. We've also installed larger fabric screens next to the tables nearer the entrance, so that everyone can have their own private dining area.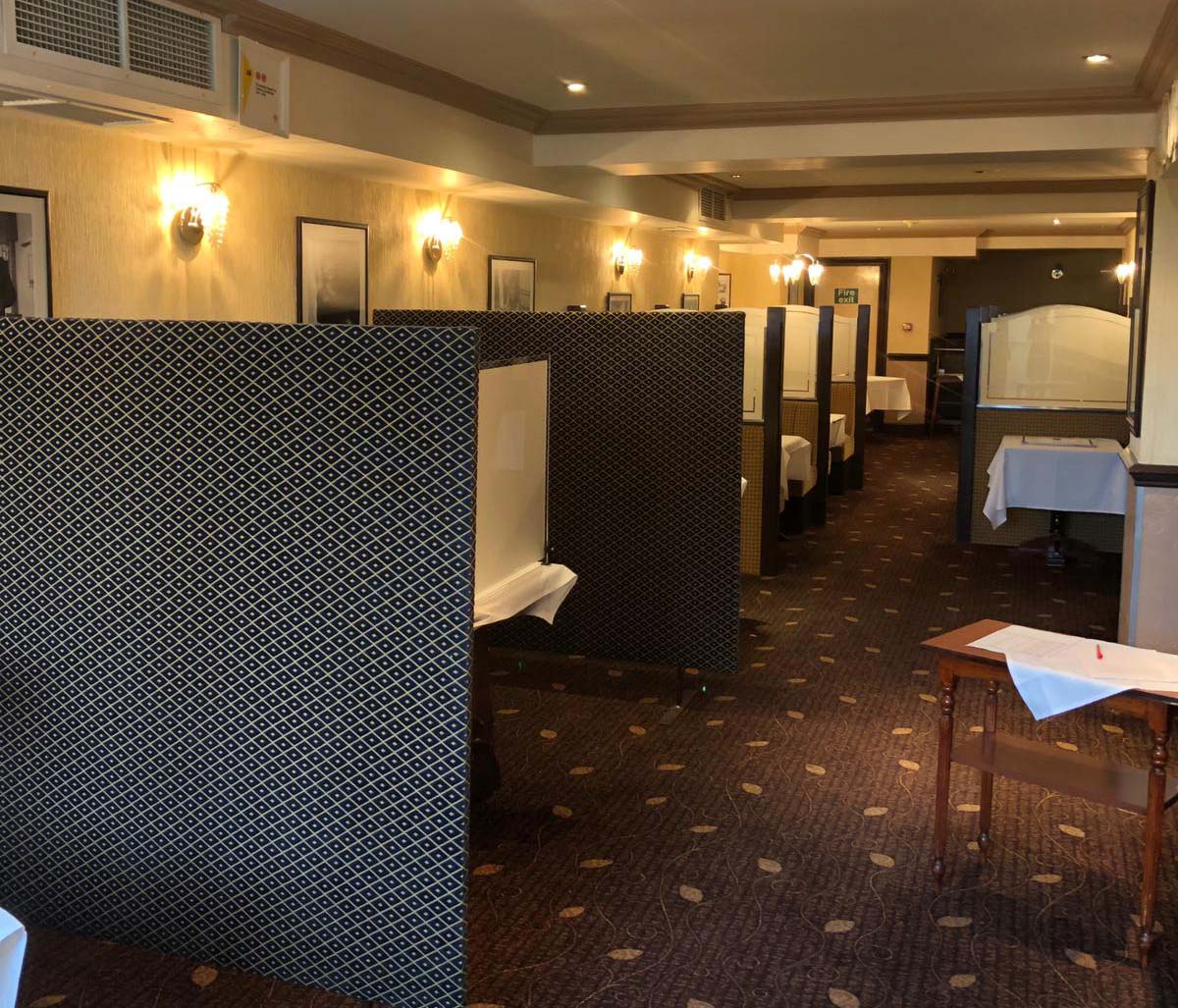 We asked a couple of friends of the hotel to come and put us through our paces, to see how comfortable they felt with our social distancing facilities.
This is their report:
"On arrival we were greeted by the lovely Paula and had the opportunity to scan the official NHS Covid-19 QR code or not, but as we'd already been booked in and given our contact details at the time, this wasn't totally necessary.
We were shown to our table and each given a new-style A3 'one-time-use-only' menu to keep for the evening. We didn't feel this let the2 AA Rosette side down at all, in fact it's quite nice to see all the menu options laid out on the one sheet of paper. We were offered a wine list too, but sadly had to decline as we were driving.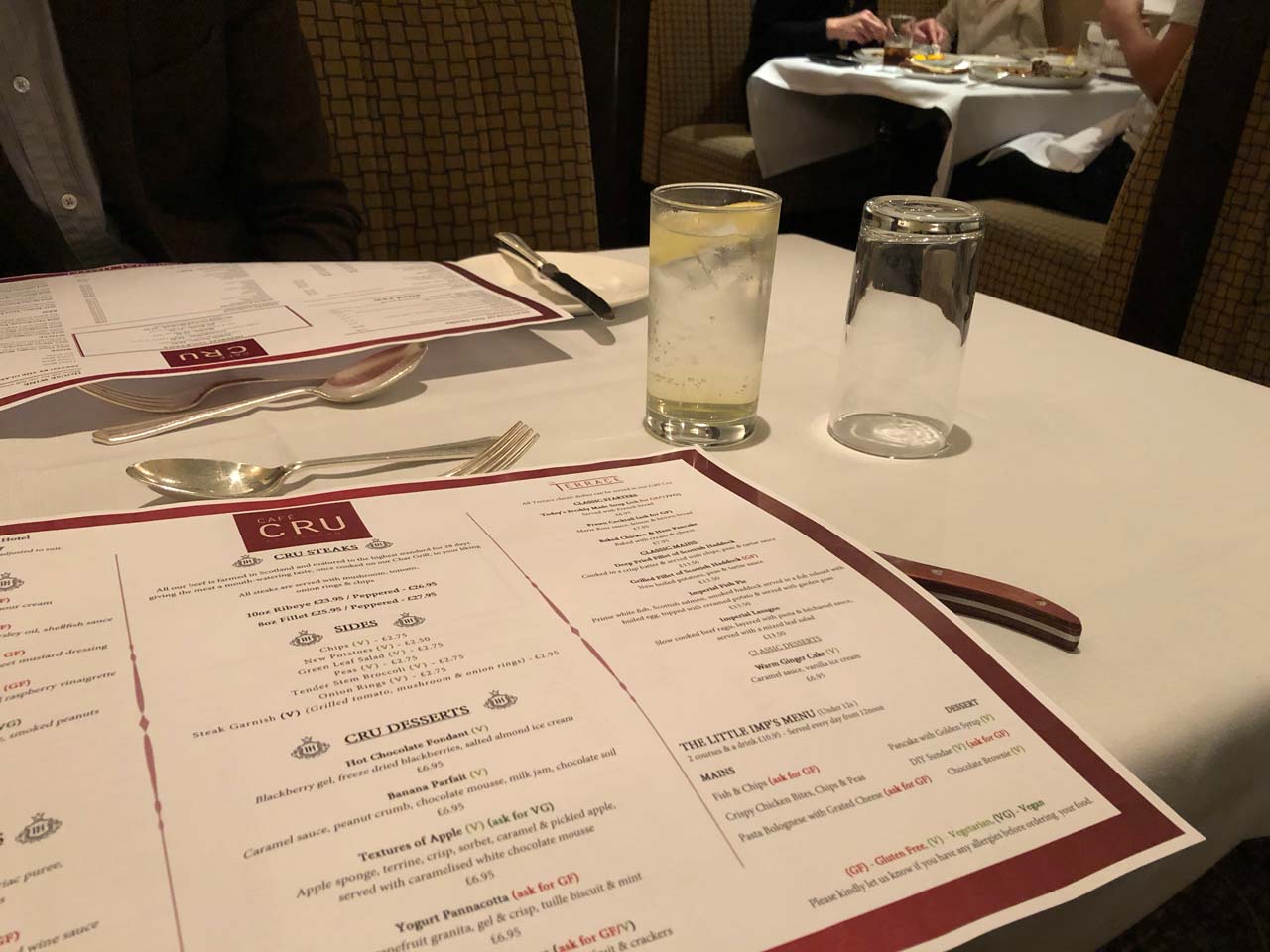 We both agreed that we felt incredibly cocooned in our very comfortable booth. We hadn't appreciated how wonderful these tables are before. You're totally screened off from most other guests and almost feel as if you're in your own private dining room. You barely notice when other guests or the team go by, and as everyone has to stay seated these days and can't go wandering about, there's hardly any passing traffic.
We were curious to see what the food would be like as we understand that restaurants have the added challenge of socially distancing their kitchen teams under the new Covid-secure guidelines. Whereas before there might have been 3 or 4 chefs slaving over your perfectly presented dish, now there's only allowed to be one chef per cooking area.
Our starters were absolutely superb, with a perfectly cooked and beautifully presented scallop dish on one side of the table, and an old-school Imperial baked pancake classic on the other. Piping hot and absolutely delicious.
And despite the new 10pm curfew by which time everyone, staff included, must be out of the restaurant, we didn't feel rushed in any way. There was a nice time lapse between finishing our starters and being served our main meals.
Both dishes were presented beautifully on lovely ceramic plates. An Assiette of Lamb went down well on one side of the table, with sea bass being enjoyed on the other. You certainly couldn't tell they weren't the work of a dozen chefs. Perfectly cooked, not a morsel left.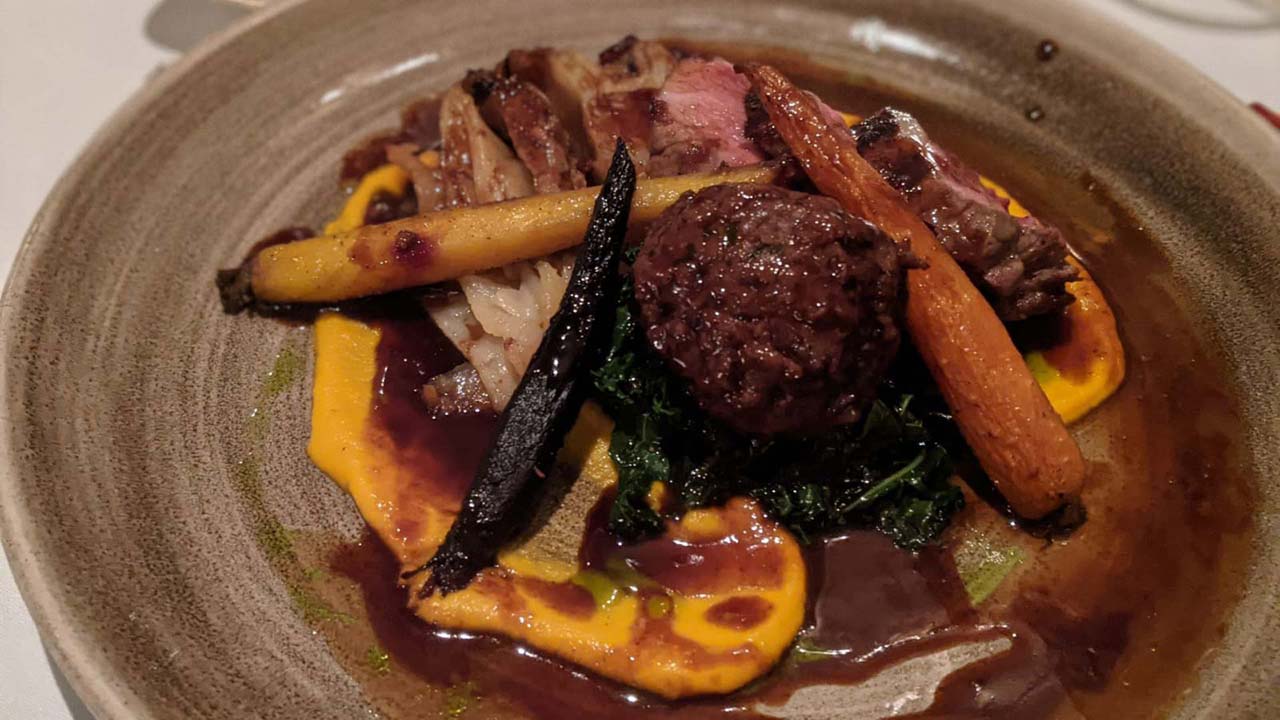 And we had both time and space to fit in a little pudding as well. A gluten free apple crumble with raspberry sorbet and a hot chocolate fondant were very slowly savoured, whilst wondering if we might be able to follow Peter's instructions and make our own chocolate fondants at home another day.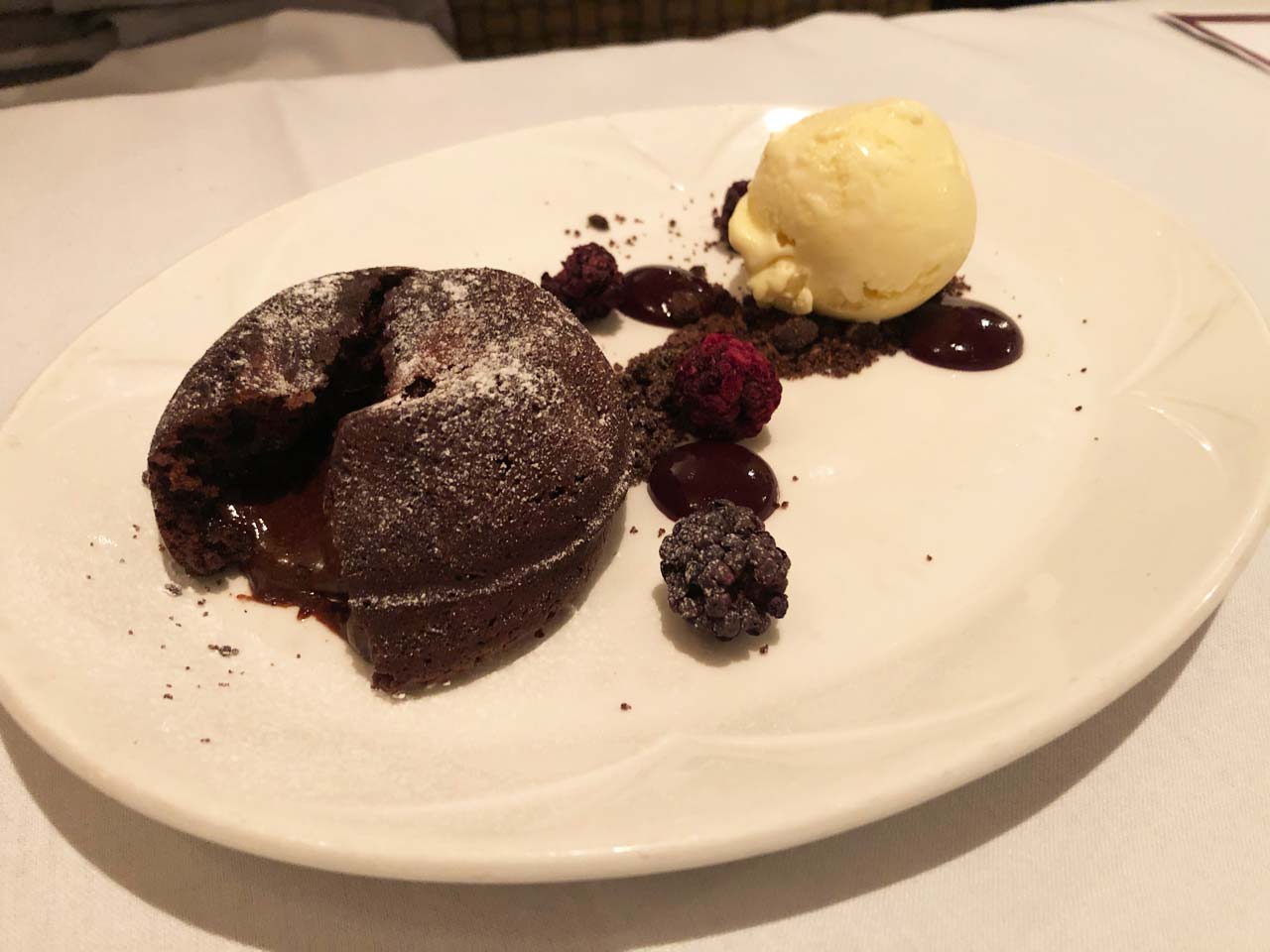 During our meal, other guests came and went, staff checked in on us attentively, but not spending too much time chatting (also as per the guidelines) and we felt perfectly safe.
We actually felt far more able to really relax than we had anticipated. Going out for dinner seems to go hand in hand with a slight element of worry these days, because so many restaurants have not really spaced tables out as they should, and don't have the cleaning regimes that the team at the Imperial were visibly undertaking. We felt very well looked after, very well fed and thoroughly enjoyed our meal and evening out.
For anyone wondering about whether or not to make a dinner reservation at Café Cru restaurant, we would encourage you to go now! Especially whilst Norfolk is still permitted up to 6 people from up to 6 different households to eat out together. The Imperial's Covid-secure restaurant is categorically one of the places we have felt safest in recent weeks."
The couple who wrote this report are good friends of the hotel, but they certainly wouldn't be backwards in coming forwards about anything we could improve on! It's one of the reasons we asked them to come and give us the once over, as we knew they wouldn't mince their words if there was anything they didn't feel comfortable with. And it's very reassuring to know that in comparison to other establishments, we are doing our best to go above and beyond in terms of implementing all social distancing guidelines, whilst still maintaining our award-winning customer and food service.
Our talented chefs are tweaking our menus every Friday, giving you even more delicious reasons to come back and relax with us over dinner as frequently as you can get away.
We'd strongly recommend booking in advance so we can ensure social distancing between arrivals, and look forward to welcoming you soon.