We love something new, and when it's right opposite the hotel, then we're more than a little intrigued! Great Yarmouth's arts organisation, Out There, is launching Fire on the Water - a very different event on the Venetian Waterway Gardens from 21 October to 6 November 2021 (tickets not available on Monday 1 or 2 November). It's going to be a dramatic mixture of fire-bright ember-glowing installations, music, performance and dancing with fire.
It's an evening extravaganza with a difference, never before seen on Great Yarmouth seafront. The half term holiday and Guy Fawkes day have never looked brighter!
Tickets cost £6 per group of 6 people, and have to be booked online in advance. It's best to do this directly with the organisers at Out There. Entrance slots start at 6pm. The event is outside, so best to come prepared for the weather - it'll go ahead in light rain so you might need your cagoule. It'll take you about an hour to complete the whole circuit inside the waterways, watching all the spectacles and shows as you go round - there's an optional 30 minute shorter circuit if 60 minutes is too long for you. Pushchairs have easy access around the Waterways and children will love it, but dogs (apart from guide dogs) aren't allowed.The thing we've all come to know and love about the Out There Festival is that you're never quite sure what's going to happen. Or what it's going to look like. Or just how daring the performers are going to be. Which is all part of the anticipatation and the thrill when you get there. They've never stopped surprising us with the range of events and shows at the Out There Festival, and we're sure that Fire on the Water will be just as fun and memorable, for children as well as for adults. When events are lit by flames and fire, it makes things all just that bit more exciting. We can't wait!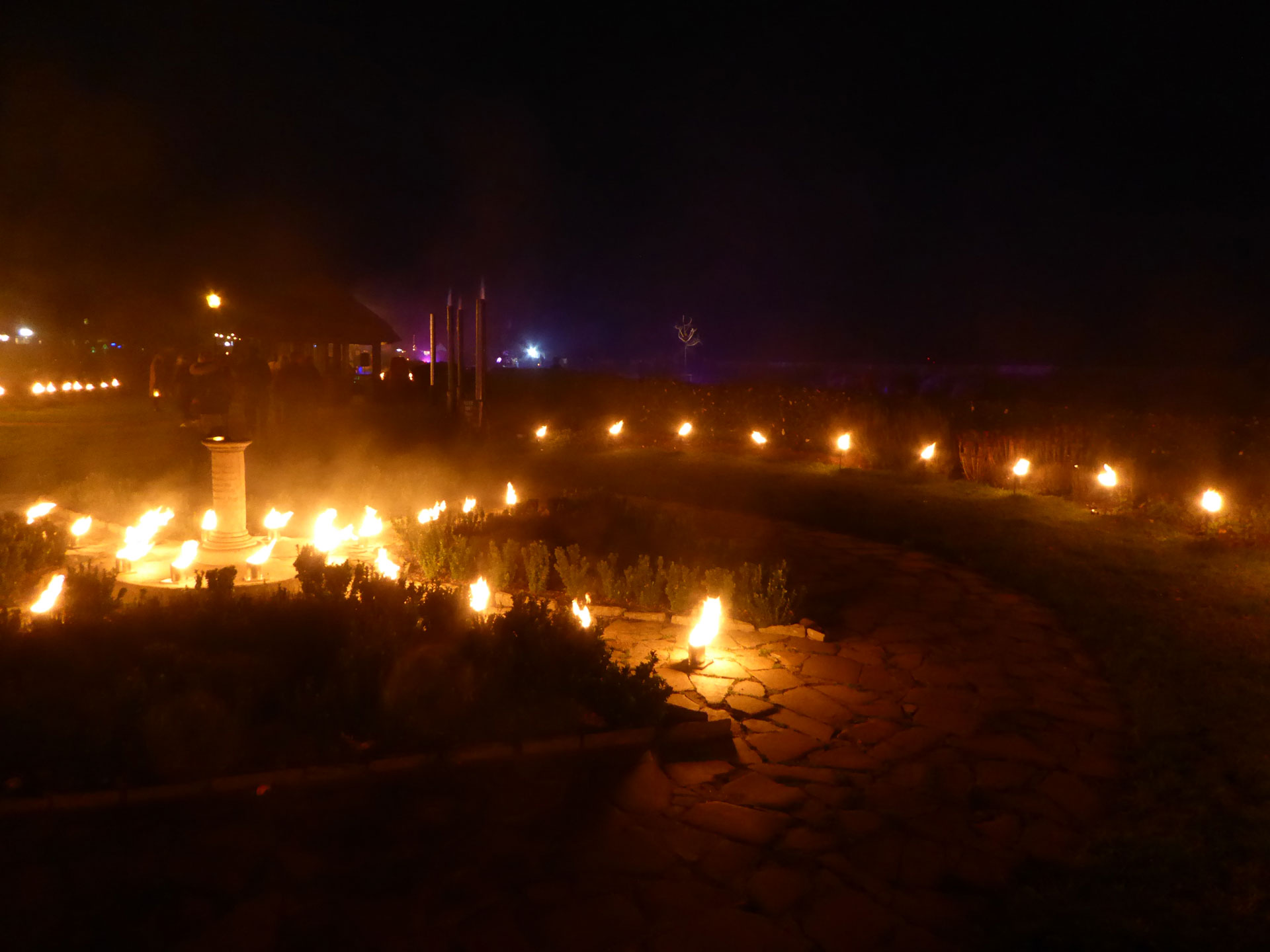 And of course we'd strongly recommend eating dinner at Café Cru Restaurant before or after your Fire on the Water experience.
We're open Monday to Saturday from 6pm with last orders at 9pm. Our internal Covid procedures mean that we haven't be able to put our traditional Crêpes Suzette complete with fire back on the menu just yet, and it's a bit early to be setting fire to Christmas puddings, but we can guarantee a delicious, hot meal in a friendly, cosy environment if you need to warm up after your fire-filled evening out.
The autumn half term is a great time to visit Great Yarmouth. The attractions are all open for one last week. And don't forget the Halloween Spooktacular takes place at the Hippodrome Circus, with matinée and evening performances most days until Sunday 31 October. Lunch on The Terrace can just be squeezed in before the afternoon matinée - do let us know if you've got tickets when you order so we can make sure you get there before curtain up.
IMAGE CREDITS: Kirsty Storr, Gary Philo - GYBC & Good Dave.