We're delighted to announce that The Terrace is open, and is now a completely 'al fresco' open air restaurant for 5 weeks until Sunday 16 May. In line with government guidelines, the roof is wide open! And so far, we've been blessed with fabulous sunny weather. The skies are blue, there are little fluffy clouds, the sun has got his hat on, and it is so good to be back.
We've made a couple of modifications for the coming five weeks, so that guests can have as enjoyable a meal out as possible in our open air restaurant. We've installed some parasols to protect guests from any raindrops, or from too much sun (here's hoping). And we've lowered our outdoor heaters, so they fit underneath the parasols. Brilliant for delivering outdoor warmth under the parasols. We've also added a couple of glass screens here and there, so that we can ensure social distancing guidlines are being adhered to. The evil Covid is still out there and we want everyone to stay as safe as possible when you come to visit.
We were very happy to welcome some familiar faces to The Terrace for lunch on Monday 12 April, our very first served meal of 2021. And the team are just delighted to be back, with Laura, Ralph and new team member Jordan working the first front of house shift.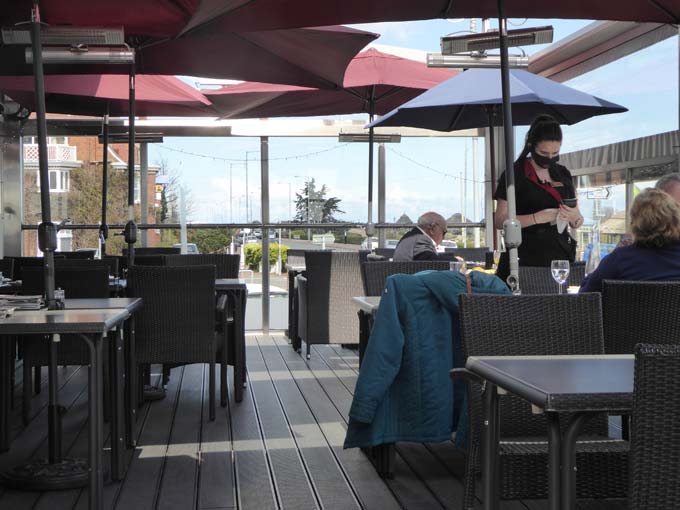 And we were really pleased to be able to help with a little birthday celebration as well. "Boris eased restrictions especially in time for my birthday," said Jeremy, who was very happy to be enjoying one of our popular steakstone meals, with an extra salad as a 'healthy' addition.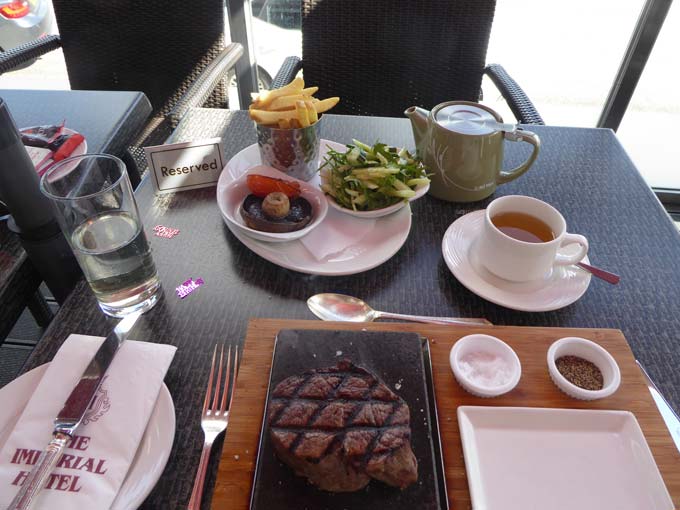 It's an absolute joy to be able to re-open one of our restaurants, as we've been closed to everyone other than to business travellers since December 2020. The Terrace has a remarkably sheltered position with walls on all four sides, which lends itself to outdoor dining. And we're hoping that with the heaters and outdoor parasols, guests can carry on with their plans, whatever the weather. We are, of course, hoping that the sun will shine like it did last spring - and a bit of warmth with it would be very nice too. We all seem to remember that this time last year it was a bit of a heat-wave, but it is only April.
Guests are very welcome to bring their own blankets, especially if they are joining us for evening meals. We can also offer our own blankets now too - rest assured that they undergo our Covid-Secure fogging treatment after every use.
The Terrace is open daily, serving lunch, afternoon tea and dinner from 12noon to 8.30pm until Monday 17 May, when it is anticipated that guidelines will change once again as the country embarks on Step 3 - we can't wait!