World War One, known as the 'Great War', was one of the biggest political, social and emotional milestones in history. It's thought, that after the dust settled and smoke cleared 16,000,000 or more people had lost their lives. Soldiers and civilians – no different in death.

A New Era of Warfare
WW1 ushered in a new era of warfare. A modern era, with chemical weapons, heavy artillery, planes and tanks. The level of destruction to human life these advances caused was unprecedented and vast. The brunt of this was endured by a generation of young men, some of which started exploring their painful feelings for war and existence through poetry.
The Loss of Innocence
William Wordsworth described poetry as the "spontaneous overflow of powerful feelings". This is true, but the Romantic literary movement he helped start in the 19th Century focused on a certain type of feeling. One associated with the sublime; the awe of nature and dramatic landscapes. Not the horrors of war.
WW1 poetry was extensive, gritty, moving and reflected a loss of innocence. The world was no longer so romantic. A war entered with a sense of heroism and patriotic naivety was revealing itself to be a monster.

Drummer Carr's Lost Poem
It could be said that WW1 was a "war of the words". Not only was it distilled into what could be millions of poems, but it changed the face of literature forever. The poetry and prose of WW1 was, for the first time in history, terrifyingly real.
At the Imperial Hotel, whilst looking through our archives we found something poignant. A poem written by soldier Drummer Carr, whilst stationed in Great Yarmouth towards the end of the war.
Albums
By Drummer Carr – December 1917
We may write our names in albums,

We may write them in the sand,

Or chisel them in marble,

With a firm and steady hand,

But soon the pages are sullied,

Soon each name will fade away,

Every monument will crumble,

While all earthly hopes decay,

But "Dear May" there is an album,

Full of leaves of snowy white,

Where no name is ever tarnished,

But forever pure and bright,

In that book of life "Lords Album",

May your name be penned with care,

And all those in years who write it,

Write their names forever there.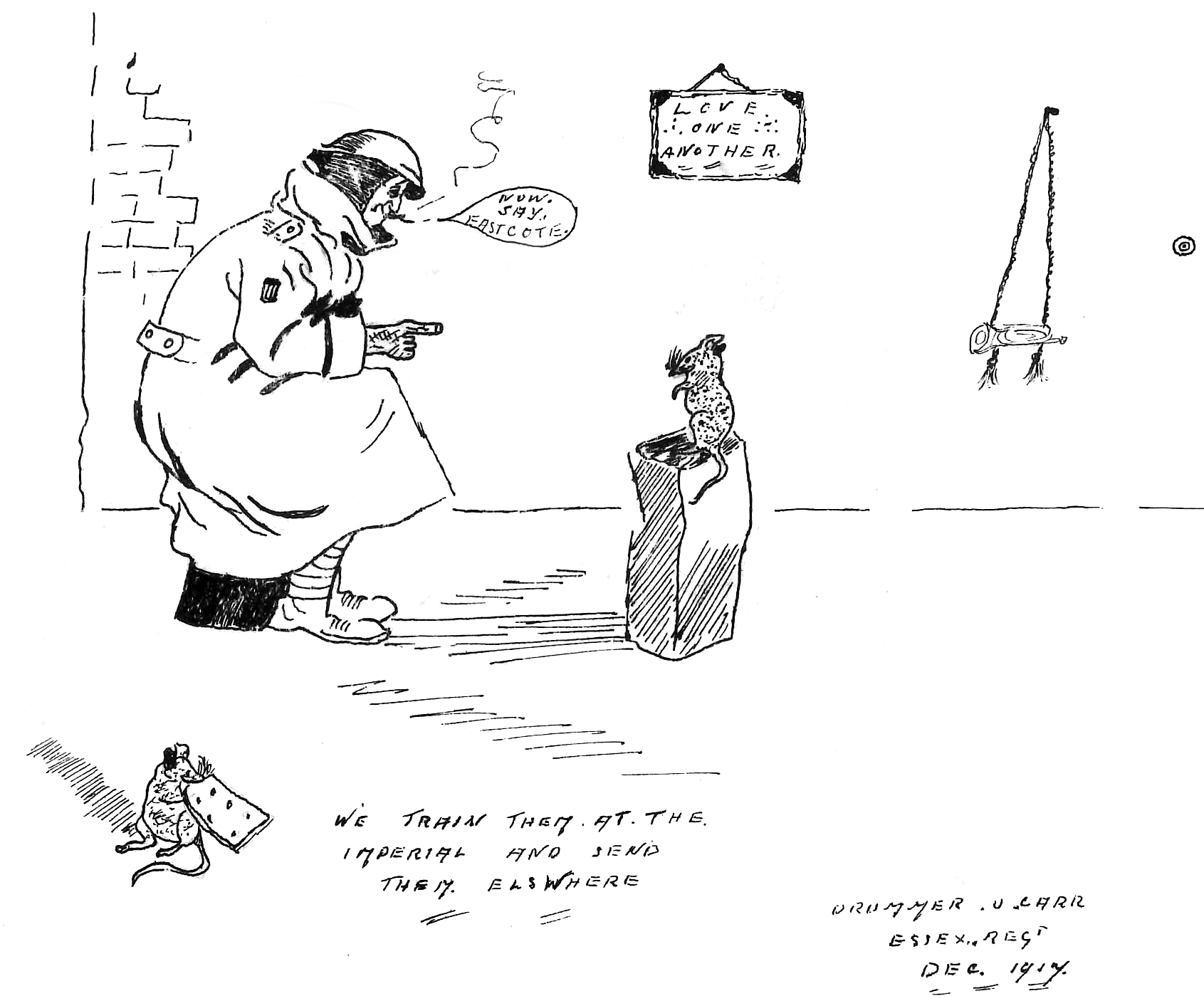 Sketch by Drummer Carr, found with his poem.

Whilst we don't know who Drummer Carr was, or whether this was his real name. We know he was part of the 15th Battalion, Essex regiment. We also know that the 15th Battalion was newly created in 1917, and its purpose was the coastal defence of Great Yarmouth. After this, in May 1918, the battalion was shipped out to the frontline in France.
Was this poem a final expression of a soldier soon to be lost in battle?
The Context of Drummer Carr's Poem
In WW1 Great Yarmouth was the location of the first and last Zeppelin raids in Britain. Why? Yarmouth and Lowestoft were British Navy strongholds. Both submarine and mine laying operations came from bases here. Inevitably they were targets for the German forces.
Drummer Carr arrived in Great Yarmouth between raids and would have been gone before the final attack. The Yarmouth he knew was a town in suspense, like so many in Britain, and other countries. No one knew if, or when more bombs would fall. No one knew the war was in its final throws and by November 11th, 1918, would be over.
Drummer Carr's Meaning
Quiet moments of war are never mentally peaceful. Nor are the years that follow. It seems that whilst Drummer Carr was in Great Yarmouth he was reflecting upon his existence as a soldier, as a person – although his poem is that of "we", the nameless masses.
This lack of personalisation could be a comment on the camaraderie and inhumanity of war simultaneously. He clearly viewed himself as part of larger whole; his battalion, the military, and likely took courage from this. But, at the same time he is suggesting there is no room for "I" in a time of war. The poem's content supports this.
Refined into a thought, Drummer Carr's poem says, "despite our best efforts to be remembered, we will not be, except by God". This was both a resignation and a comfort to Carr. Religion for soldiers was an emotional catchment net – a way of knowing that whatever happened, in some way their spirit or memory would live on.

The Poetry of War
Although not as explicit as in the poems of his famous contemporaries, such as Wilfred Owen and Siegfried Sassoon, Drummer Carr touches firmly on the disillusionment and futility felt by many during WW1, especially soldiers. These were black veins running through the literature of the time.
Simply, people were not ready for the horrors that came with modern trench warfare. We've never been ready. Before WW1, war was still medieval, in a sense that it didn't have machines or such an enormous capacity for destruction. Young men were joining the effort thinking of cavalry charges and banners flying. The reality couldn't be further away. The Great War caused a level of human devastation that shook the world. A significant bite was taken from a whole generation.
Upon realising the true nature of WW1, many picked up a pen and tried their hardest to make sense of their situation in poetic form. The "War Poets" were the true voice of the Great War. Although, as if becoming one with their poetry, some would have to die before their words dissolved into the public psyche. Like Wilfred Owen below, killed on the battlefield (sadly, a week before the end of the war). His death became the ultimate justification of his poetry.
"The experience of the front-line war poets was more overwhelming, more prolonged and more intense than for any previous generation of soldiers…Men found themselves to be driven cogs in vast, insensitive, impersonal machines, stripped of will, morality, and dignity. They were victims of the grossest abuses by the countries which they served and so often loved". – Warpoetry.co.uk
To be dehumanised like this is humiliating and hurtful to say the least. Owen's, 'Anthem for Doomed Youth' published in 1917 sums this up masterfully –
Anthem for Doomed Youth
What passing-bells for these who die as cattle?

— Only the monstrous anger of the guns.

Only the stuttering rifles' rapid rattle

Can patter out their hasty orisons.

No mockeries now for them; no prayers nor bells;

Nor any voice of mourning save the choirs,—

The shrill, demented choirs of wailing shells;

And bugles calling for them from sad shires.

What candles may be held to speed them all?

Not in the hands of boys, but in their eyes

Shall shine the holy glimmers of goodbyes.

The pallor of girls' brows shall be their pall;

Their flowers the tenderness of patient minds,

And each slow dusk a drawing-down of blinds.
Owen is describing the brainless hunger of war, and how the deaths of soldiers pass without ceremony – literally cattle to slaughter. He also illuminates the social, political and moral abandonment soldiers must have been feeling – "…no prayers nor bells; Nor any voice of mourning…".
WW1 challenged society's ideals surrounding war and blind conformity. Was anything worth such carnage?
Drummer Carr is Remembered
As a soldier in the face of a vast war, which does not care and does not stop – and as part of a country which has lied to you with war propaganda, feeling meaningless is natural. Feeling like no one will remember you, or care if you die is also natural. Especially from a political perspective.
What about life?
Whatever the Government defence for death, no soldier lived in vain. Each had someone who loved them, and a life they were living before the war. Parents, brothers, sisters, children, cousins, aunts, uncles, friends…
There were fellow soldiers too. War creates bonds of friendship and love like nothing else.
At the Imperial we sincerely hope that Drummer Carr survived his trip to the front line and went on to live a long life. We hope too, that he was able to find some semblance of inner peace – after such a life changing and traumatising event as WW1.
It would be wonderful to find his family and discover who he was, and what he meant to them. If anyone knows please do get in touch.
Despite his reservations on our ability to be remembered – Drummer Carr left a mark. We thank him for his sombre, yet beautiful poem and will have him as part of our thoughts this Armistice Day, November the 11th.
This article is dedicated to Drummer Carr, a World War One soldier in the 15th Battalion, Essex Regiment – who may or may not have died during battle.
R.I.P.