The thing with this Coronavirus malarkey is that it really makes you think on your feet. During the second lockdown in November, we had a few 'down in the dumps' days when we wondered if there would ever be light at the end of the tunnel for hospitality businesses. And then we had amazing, exciting days when we come up with a new idea that might just work and enable us to welcome guests to our hotel and restaurants, whilst still being completely Covid-secure and utterly above board and legal.
And that's what happened with Mix with Six. Tier 2 was announced and truth be told, we all felt a bit fed up. Because being in tier 2 means that we can only seat one household at a time in Café Cru Restaurant and on The Terrace. And there are a fair few people about who tell us they're sick to the back teeth with their household, and are desparate to go out to eat with friends and family instead.
And then Nick happened to be chatting to Maddie who casually mentioned that in London, all the restaurants were opening outdoor eating areas. And suddenly Nick had an idea!
It's obvious when you think of it. Our fabulous Terrace restaurant has a fully retractable roof. We've also got outdoor heaters. Why not offer outdoor dining and drinking in Great Yarmouth in the evening too?
We got talking some more, and agreed that some people would think us crazy. But it's exactly what Alpine restaurants in ski resorts offer after a day on the slopes, and their customers don't think twice about eating and drinking outside, even when there's snow on the ground and it's -10°c! And so, Mix with Six was born.
And so far, so much fun!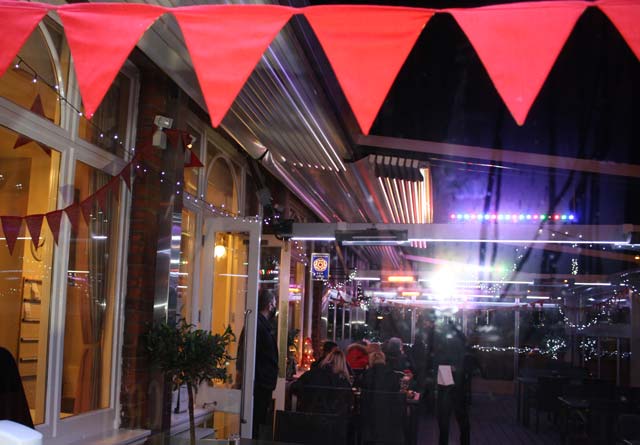 Our new outdoor, starlight dining area, where the Rule of 6 applies has been fully booked every Friday & Saturday night in December. And it's been so much fun and we've had such great feedback, that we've decided to keep it open.
And so, for as long as we're in tier 2, and as long as rain isn't forecast, ables of up to 6 guests from 6 different households can meet for food, fun and laughter together on the Terrace under the stars every weekend in January and February.
Nicholas Mobbs said: "Sometimes, you have to think literally and laterally. When we heard the news that Norfolk would be in tier 2, and only members of the same household would be able to eat together in restaurants indoors, our hearts sunk.
"But after a comment made by our elder daughter about what she'd seen in London, I began to think. We have a restaurant that could easily become open air. Outdoor heaters have been installed since we opened. Everyone is fed up with Covid-19 and the various tiers, lockdowns and rules who you can and can't meet, and especially at this time of year, everyone wants to meet up with friends. The best way to do that is over a meal and a drink, and this is our fun, totally Covid-secure and tier 2 compliant solution.
"Even with the heaters, it's still a case of wrap up warm and wear your bobble hat, just like you would in the Alps. We'd usually offer guests a blanket if it's a bit chilly, but starlight diners will be strongly recommended to bring their own blanket, as Covid-regulations rule out using ours.
Mix with Six has a no fuss food menu of piping hot dishes including sizzling hot SteakStones and après-ski style Raclette, which takes the ultimate comfort food, cheese on toast, to a complete new level with a piping hot little grill on each table.
Boozy coffees and Grant's secret ingredient Mulled Wine are also proving very popular with Mix with Six guests. Grant's been back in the ktichen brewing huge vats of Mulled Wine ready for each Mix with Six evening.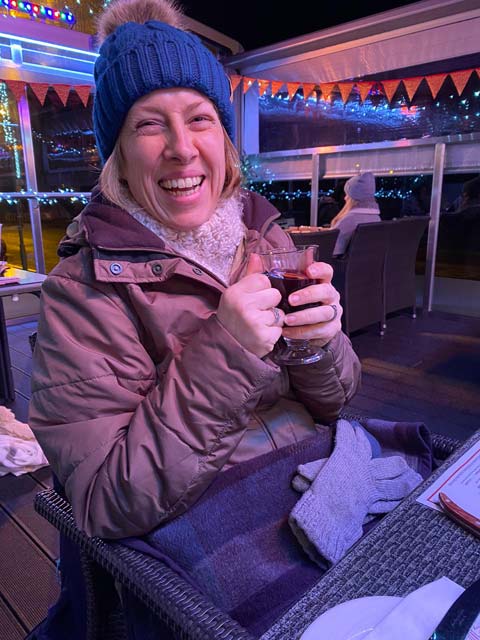 And we've hosted seveal birthday celebrations at Mix with Six too. Twenty-firsts need no longer go uncelebrated with your friends if you book a table at Mix with Six. We've toasted lots of birthdays and anniversaries throughout December at Mix with Six, and look forward to celebrating more once we're back in tier 2.
You can book your Mix with Six table by calling us on 01493 842000. But do book early! Places are limited as social distancing of tables is very much in place on The Terrace so that everyone can relax in a Covid-secure environment.