We were really pleased that our pre-opening, post-Covid-19 closure charity evening at the hotel on Friday 31 July 2020 went so well, and even more pleased that we raised £2000 to be split between two charities, Medical Detection Dogs and Prostate Cancer UK.
As you know, like all other hospitality businesses, we've had to implement one-way systems and train our fabulous team in a whole range of new Covid-19 processes and procedures. We wanted to make sure that it was all going to work how we envisaged before we opened to the public on Saturday 1 August.
What better than to invite a small number of regular guests to a special soft launch charity evening on Friday 31 July as our high valued and very welcome guinea pigs?! First we asked them to kindly test out our new one-way system, including following the signage around the upper ground floor to the restaurant, and from the restaurant around to the loos.
They also kindly sampled 3 courses from the new menu, and enabled our team to put their training into practice. For example, we'd usually offer you the menu, then take it away when you've chosen your starters and mains, then give it back to you when you're ready to consider dessert. But now, the menu has to stay with you on the table throughout the meal to reduce touchpoints. (You can of course choose to view the menu on your phone instead). It might sound simple, but leaving the menu on your table is just one tiny example of the myriad of changes we've had to put into place to make things safe for you to visit.
We're absolutely delighted to say that feedback was overwhelmingly positive, with all guests reporting that they felt safe and that our award-winning customer service was still attentive and just how it should be at Imperial Hotel, even from a greater distance than usual.
It wasn't just the feedback about our systems that was positive - the contributions to our chosen charitities were also superb, with a grand total of £2000 raised on the evening!
Everyone knows that Nick and Aileen love dogs and that the Imperial is a dog friendly hotel, with Sammy often to be seen manning reception with the team. And October 2020 sees a special 'dogs go free' offer for the very many visitors who bring their four-legged friends away with them on holiday.

Aileen said: "Before the onset of Covid-19, I'd been planning on volunteering for Medical Detection Dogs, an amazing charity based in Milton Keynes which trains dogs to detect the odour of human diseases such as cancer. And then, during lockdown I read in their supporter's magazine, The Sniff, that they were developing a project to train dogs to detect Covid-19 by smell. We're delighted to donate £1000 of the monies rasied to this innovative small charity, who would have thought that specially trained dogs could achieve life saving results just by sniffing the air around humans?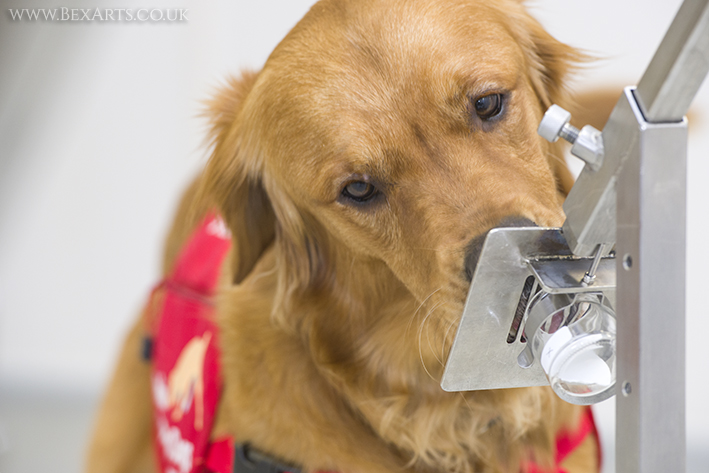 [Thanks to Medical Detection Dogs / BEX Arts for this lovely picture]
The other £1000 is winging its way to Prostate Cancer UK, another charity close to Nick and Aileen's hearts. Aileen said: "We'd make plans to support Prostate Cancer UK on Father's Day in June, with an amount per Sunday lunch or Father's Day golf break being donated to the charity, but Covid-19 put paid to that idea. Prostate Cancer is the most frequently diagnosed cancer in the country, and if caught early enough, can be treated very successfully. Men have got to pay more attention to their health, and spot symptoms early if they can. Both Nick's father and my Dad, and Nick's Granddad have had issues with Prostate Cancer, and several staff members have relatives who've also suffered from it, hence our decision to support this important charity too.
In the first four days since opening, when not being rushed off his feet, husband Nick has reflected on what has been achieved. He said: "We're delighted to have re-opened, as it really has been a very difficult and challenging four months. Support and well-wishes from staying guests and diners over the past few days has been simply overwhelming. We are very fortunate that in this huge Victorian building we are blessed to have large amounts of space. We've been able to extend the dining area from The Terrace into the adjoining Victoria Suite so we can easily cater for up to 70 people with plenty of room for social distancing between tables. And so far, the Eat Out to Help Out scheme is proving very popular. It's early days of course, but we would love to run at this busy level for the whole of August and well into autumn if possible. Hopefully the great British public will staycation in force this year and the warm weather will hold. We know that lots of our regular visitors who were unable to come earlier in the year have plans to visit us now we're open again, and we can't wait to see them."