Nick's love affair with wine started as an undergraduate at university whilst a student at the Hotel School in Scotland.
In his first year, Nick studied the art of wine tasting under a lecturer by the name of Jim Steel. There were 2 lectures per week, part tasting, part theory. He remembers vividly that they were every Tuesday at 11am – it would never happen now!
Jim Steel was a veritable genius, very clever but definitely eccentric. He carted out wines from all over the world to bring to the class every week, bringing crates of wine into the lecture hall with a sack-barrow. And there they were, a select group of hotel school undergraduates, tasting wines from all over the world before lunch on a Tuesday.
The students also studied the way in which menus and dishes are created especially to go with wine. Nick learned a lot, even if some of it might have been through a slight alcoholic haze. But at the end of the year, he really felt that he understood the art of tasting wine. And to cap it all off nicely, he won the end of year competition with a very nice prize, although he never thought he'd use the knowledge ever again.
Later, once Nick had graduated from the University of Strathclyde, and started work at Imperial Hotel, he found that Sunday nights behind the desk were a bit boring. He started to read the trade magazines and spotted a Wine Waiter of the Year competition. As he read it, he realised he knew all the answers. He filled it in, stuck a stamp on it, popped it in the post and didn't think anything more of it.
Several weeks later, a letter arrived from Grants of St James, inviting him to come to the Wine Waiter of the Year Competition at Hugh Johnson's Cellar, a prestigious wine shop opposite Clarence House in London.
Nick set off to the big smoke, suited and booted, with a corkscrew in his pocket. He wasn't really sure what to expect.
In London, he found himself in a cellar, with 18 other people ready to compete in the London regional heat, all fully equipped with decanters and other paraphernalia. He was the only English person there, with merely a corkscrew to assist.
The competition included all sorts of questions about wines, blind tasting after blind tasting, and also wine service for which Nick was utterly unprepared. It was a veritable challenge for the boy from Great Yarmouth.
"That's probably the end of that," Nick thought. But then he found he'd scored 87/88 and was into the finals.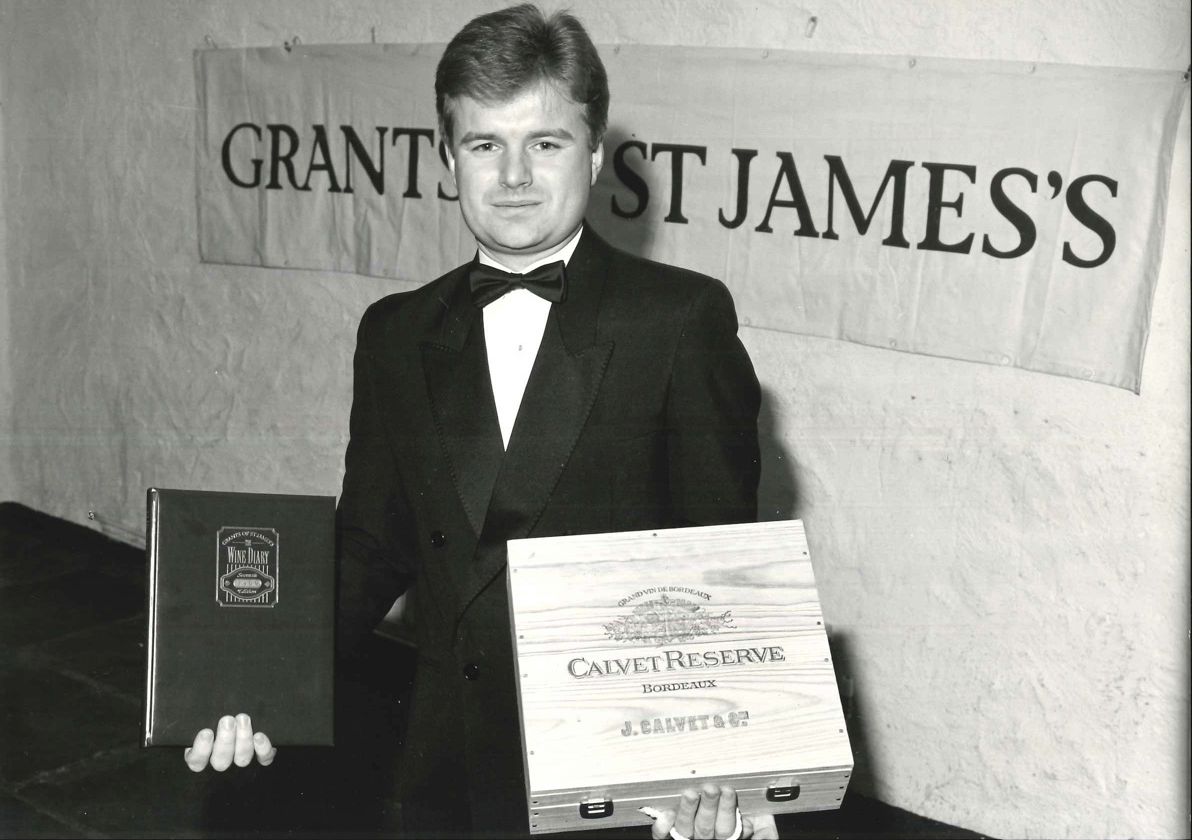 A few weeks later, he presented himself at the Park Lane Hilton. There were 3 elements to the competition and 6 contestants, who had to demonstrate service of wine, decanting, opening Champagne and answer yet more questions.
At the time Nick didn't feel he'd covered himself with glory. There was definitely an element of winging it to the whole affair. He set fire to the wine basket with the candle when decanting. And then he fell off the stage when walking round the table during his wine service. But in the final black chair Mastermind style round, he knew the answer to every single question fired at him.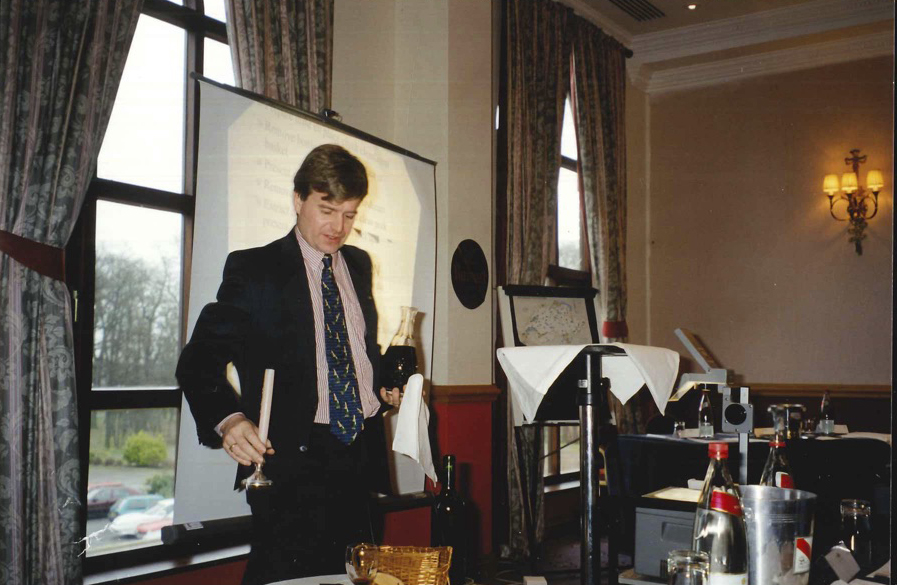 And after all that, he came 2nd. He won a week in Bordeaux with return flights, château visits, lunches, dinners, wine and yet more wine at cellar doors.
Very lucky.
But then the Nick Mobbs philosophy kicked in: 'if you're going to do it; do it well.' So he went back home and studied, and tasted, and practised, and studied and tasted some more, and entered again.
Nick came 2nd in the competition 3 times in a row. And then, finally, he won Wine Waiter of the Year UK in 1993. His conquest saw him being sent off to attend the Wine Waiter of the Year Finals in Rio de Janerio, where he shared a room with the late, great Gerard Basset, widely acknowledged to be the best sommelier in the world. As the only two British contestants, Nick and Gerard had met in previous Wine Waiter of the Year competitions and had become good friends.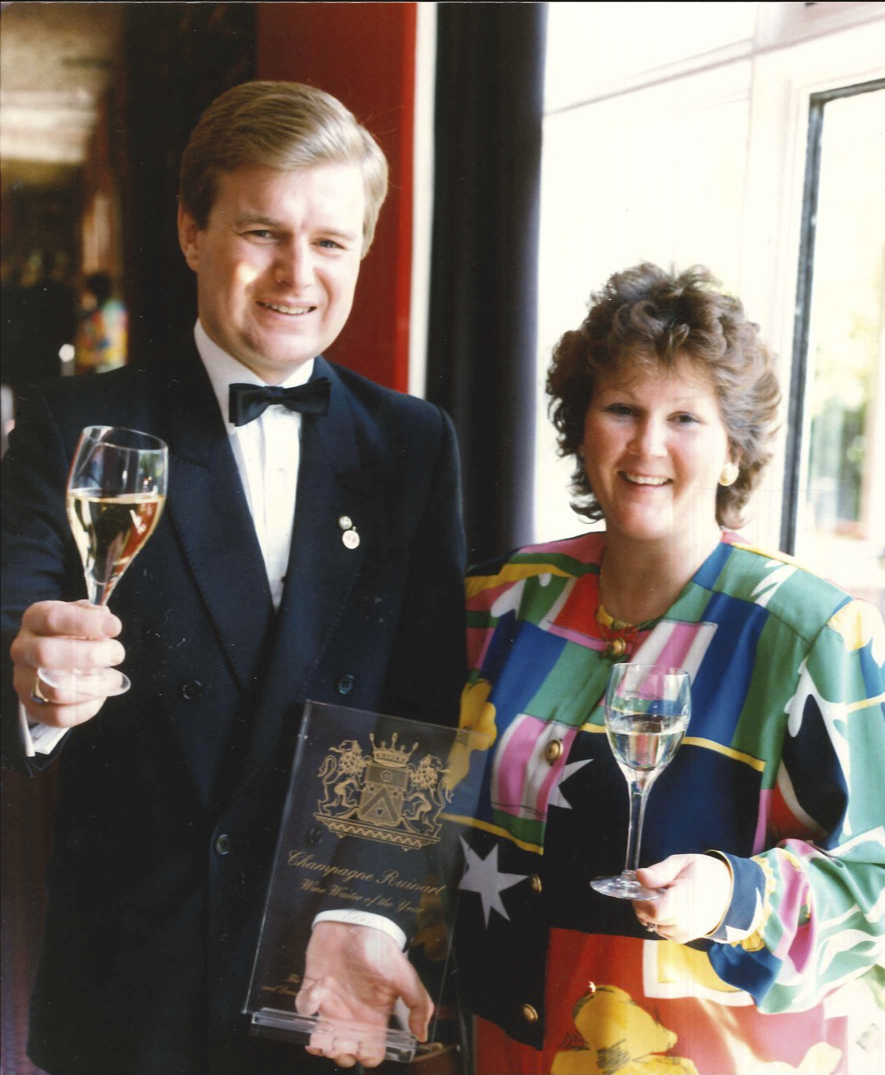 He also got into two European Wine Waiter of the Year finals, and went to Australia and all over Europe as part of his Wine Waiter of the Year adventure. Competing at that level required serious dedication – he was even studying for the competition when Aileen was in labour with Maddie and again with Heidi two years later.
In the end, Nick concluded that if you want to be the world champion, you have to dedicate your life to it. And he had a hotel to run, a family to bring up and a dog to walk. On reflection, it had been great fun and pure fluke. Or maybe not
To this day, the wine list at Imperial Hotel is extremely carefully curated, by a man who definitely knows what he's doing. Join us for our next wine tasting evening - do keep an eye on our events page for dates - and see for yourself.