As most people know, wine is a subject close to Nick's heart. And we had a whole series of wine tasting events scheduled for 2020 before the lockdown forced plans to change.
A virtual wine tasting via Zoom would be fun, but could get a bit messy. So to give you something to think about and also the chance for a bit of competitive fun, Nick has devised a tricky wine quiz to test your grey matter whilst you are staying safe at home. And the prize? A fabulous bottle of white Burgundy to be posted to the winner.
And whereas consulting Google is strictly banned at a quiz night at the hotel, for this quiz you're free to phone a friend, ask a member of your household, or to do a bit of internet research to track down your answers ....
But unlike our wine evenings, you'll have to cook your own 3 course meal to go with the quiz. We'd love to see your menu suggestions! Feel free to comment underneath, or to give us your menu thoughts on the corresponding FaceBook, Instagram or Twitter post.
We'd love to say answers on a postcard (feel free if you're of a mind, but don't forget to include your contact details) but easier for all if you email them to events@imperialhotel.co.uk, to arrive at Imperial Hotel by no later than 1700 hours on 17 April 2020. The eagle eyed will spot that this date would have been the night of our first wine tasting event of 2020. We very much hope to anounce a revised date for this event in autumn. Terms and Conditions are below - good luck!
Nick's Lockdown Wine Quiz
1. What is the major white grape of Burgundy?
2. What is "Bordeaux Mixture"?
3. Who created the original super Tuscan?
4. What is a Fiasco?
5. What are the 3 grape varieties that are allowed to be used in the production of Champagne?
6. What is the name of the very famous vineyard in Surlingham, Norfolk?
7. How many times did Nick Mobbs Come second in the UK Sommelier of the Year Competition, and in which years? (See picture below - but not a big clue!)
8. The Pinotage is a hybrid grape - which grapes were used in the crossing?
9. The "Steen" is the synonym for which grape type?
10. Where are the Côte Brun and Côte Blonde?
11. What is the emblem embossed on the glass of a bottle of Châteauneuf-du-Pape?
12. What is the mountain range which affects the climate of Alsace?
13. Name the grape used in the production of Sancerre.
14. What region does Pouilly Fuissé come from?
15. What region does Pouilly Fumé come from?
16. What is Albarino?
17. On which island and in which country is the Marlborough wine region located?
18. What is the internal pressure of a bottle of Champagne?
19. Who is the God of Wine?
20. For what purpose would you use a Stelvin?
21. And finally, please state 'yes' or 'no' or 'aready on it' in response to the question: Are you happy for us to add your email address to our email marketing list and to receive email updates from Imperial Hotel?
Best of luck!

Nick looks forward to receiving your answers, emailed to events@imperialhotel.co.uk by no later than 1700 hours on Friday 17 April 2020. You've got 10 days, go!
The winner will be announced no later than Friday 24 April and will be contacted via email.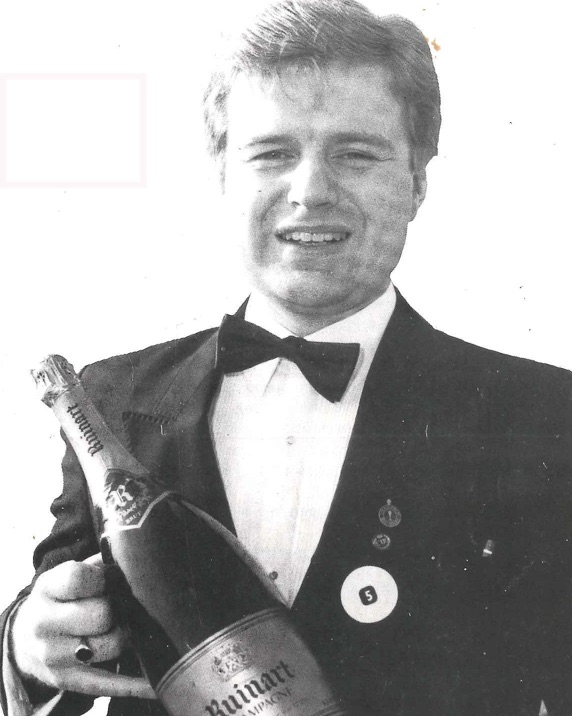 Terms & Conditions and other small print
- There is 1 prize of 1 bottle of white Burgundy available. The prize is as stated. There is no cash alternative.
· The quiz is open to UK residents aged 18 or over, excluding Imperial Hotel employees and their relatives.
· Closing date for entries is 1700 BST on Friday 17 April 2020.
· Entrants must answer the questions by submitting their answers by email (or on a postcard if you really want to) to events@imperialhotel.co.uk. Only 1 entry per person. Make sure you're confident before you press send on your email! Entries posted below this blog or on social media will not be counted and might spoil the fun for everyone else.
· The email addresses of those entrants who answer 'yes' to question 21 will be added to Imperial Hotel's email marketing database. The email addresses of those entrants who answer 'already on it' will be retained. The email addresses of those who answer 'no' to question 21 will be deleted within 30 days, once the winner is notified and confirmed.
· The winner will be the person who correctly answers all questions and all parts.
· The judge's decision is final. In the event of a tie, all correct entries will be put into a hat and the winner drawn.
· In the event of there being no winner, the prize will roll over to the next lock down quiz.
· The winner will be informed by reply to their email entry within 7 days of the closing date. The winner will need to reply within 7 days to claim their prize. With their permission, the winner's name will be announced on our blog and on social media.
· The winner's name will be available on request.
· The promoter is Imperial Hotel (Great Yarmouth) Ltd.
· By participating in this competition, entrants confirm they have read, understood and agree to be bound by these terms and conditions.
· This promotion is in no way sponsored, endorsed or administered by, or associated with Facebook or any other third party.