It seems as if weddings and partnership ceremonies may not be able to go ahead 'how we know it' for some time. It may even be the case that large wedding celebrations for hundreds of guests aren't allowed for many months.
We know that words can't explain how disappointing this is. If you still want to get married or civilly partnered in the coming few months, you may have to re-think your plans and perhaps give serious thought to having a more intimate ceremony with a smaller sit-down wedding breakfast. You could always plan a fabulous celebration party when parties are allowed again.
Very clear guidance has been issued from the Norfolk Registry Office team regarding how they are able to conduct ceremonies for the foreseeable future. It's well worth talking to them before you book your venue or make firm plans.
We held our very first Covid-Secure wedding here at Impeial Hotel this week. Here's our 'how to guide' for how to hold a Covid-Secure wedding and still have a wonderful day.
30 very important people (15 very important people from 28 September 2020)
Current guidelines (15 August 2020) state that up to 30 people can celebrate a wedding ceremony or civil partnership. And until 27 September 2020, 30 people can attend a sit-down wedding breakfast too. As of 28 September 2020, the number of guests at a wedding decreases to just 15. But just how exactly does this work?
First of all, to be very clear, the magic number 30 (or 15) includes the happy couple. However, it also includes the two Registrars. This number does not include the staff at the hotel. But it doesn't include the photographer either.
So other than yourselves, this means you can invite a maximum of 26 guests to the ceremony, or 25 guests and one photographer. (And as from 28 September 2020, you can invite 11 guests to the ceremony, or 10 guests and one photgrapher). And two of your guests need to be your official witnesses.
It's recommended that you think very carefully about inviting people aged over 70 who have been shielding, or children aged 5 or under. Small children have to remain next to their parent or guardian at all times. And the guidelines state that any child aged 6 or over counts as one of your 26 or 11 guests.
Where can you hold the ceremony?
Government guidelines indicate that wedding ceremonies may only be conducted in a Covid-Secure venue. Imperial Hotel has Covid-Secure status and a suite of rooms that can be used for conducting ceremonies and for a sit-down wedding breakfast, with plenty of space to observe all guidelines.
How does the ceremony work?
In the ceremony room, all guests have to sit in a socially distant manner. People from the same household, or household bubble may sit together. But other guests have to sit a suitable physical distance away to comply with current social distancing rules.
For example, if the bride's immediate family all live in the same house, they can sit together. And if the bride's grandparents are in their bubble, they can sit next to them. But if the bride's grandparents don't live in your household and aren't part of your bubble, they will have to sit the required distance away.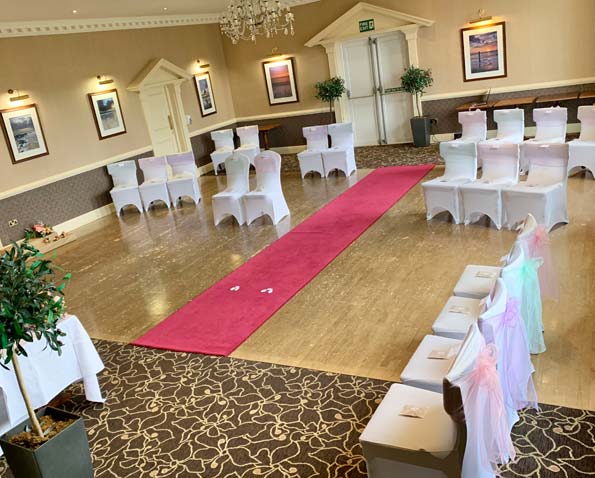 It's all a bit of a palaver. But it's nothing that can't be worked out. Your ceremony will still be a memorable one.
If you choose to book your covid-secure marriage or partnership ceremony at Imperial Hotel, we'll talk about who needs to sit where. Your witnesses, for example, need to be able to hear you say your vows, so it's no good them being at the back. Nearer the date, we'll work out a ceremony seating diagram with you when you can also give us the names and contact details of all guests for track and trace. On the day, we will place groups of chairs where they need to be and put guest names on each chair, yet still create a clearly defined aisle that you can walk down and back up again after the ceremony.
Current guidance (as of 8 August 2020) says that all guests have to wear face masks during the ceremony. For the foreseeable future, it's probably better to think of face masks as a wedding outfit accessory rather than a hindrance. It makes it a bit more fun. And there are some spectacular new fashions with eye makeup hitting the press.
The Registrars, bride and groom, or civil partners to be, don't have to wear a mask whilst undertaking the legal part of the ceremony.
The bride or partner and their father or the person giving them away, have to do so in a socially distant manner, unless they live in the same household or are part of the same bubble. The same goes for bridesmaids or other attendants. But you can still carry a gorgeous bouquet of flowers and the registrars table can also have photos or decorations on it.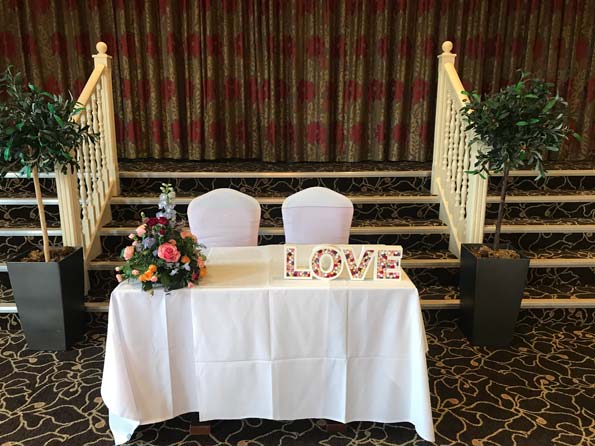 Current guidelines state that the ceremony should take place in the minimum amount of time possible. This means the Registrars will restrict the content to the legal requirements only, rather than including readings, poems, singing, or an address. Without these extra elements, the whole ceremony will take about 10 to 15 minutes.
You can have musicians to play at your ceremony if you'd like, but they can't play instruments that are blown into, and the musicians would also count towards your total number of 30 people. It might be better to ask us to play some music for you on our sound system.
If you'd like to have a reading, this needs to take place after the ceremony is over. During the after-ceremony celebration dinner would be a good time.
Rings, pens, kissing and hand sanitiser
Just as hand sanitiser has become an essential part of life, so it will be an essential part of the ceremony, not only when you sign the register, but also if you're planning on exchanging rings. Hand sanitiser will be supplied, so no need to dangle one on a string from your bouquet.
You'll also need to make sure that you've got a pen in your jacket pocket or your handbag. The happy couple will need their own pen, as will your two witnesses for signing the register. And they need to be black or blue ink. No jaunty colours or pen-sharing allowed!
As for kissing, our logic is that the happy couple are now (if they weren't before) part of the same household, therefore kissing should be permitted. But the Registrar may think differently, so you'd best check before the ceremony gets underway. Everyone else will be restricted to the new normal congratulatory hugging gestures and blowing kisses from a distance. It's an unusual world we live in these days, but we're all getting used to it.
Photos
If you are having a photographer in the ceremony room as part of your 30 or 15 people, then they need to socially distance themselves from everyone at all times. It's a good job that proper cameras have amazing zoom lenses these days. But they'll need to remember that close-ups of anyone signing the register are completely and utterly banned by law. Sadly, the 'signing the register' mock-up shot using a pretend register can't be done currently, as the Registrars can't transport the dummy book from venue to venue anymore.
After your ceremony, and when you are legally married or civilly partnered, we'd strongly recommend that the entire party goes outside onto the beach opposite or into the Venetian Waterway Gardens for your photos. No masks are required outside but don't forget social distancing in your exuberance!
Covid-Secure Wedding Breakfasts
A maximum of 30 people can attend a sit-down wedding breakfast until 24 September 2020. As with ceremonies, the number 30 includes the happy couple. But the Registrars will have gone home by this time, and so might the photographer, so there's room to invite a few more people to join you. As from 28 September 2020, the total number of people who can attend is 15.
A Covid-Secure Wedding Breakfast has to be a sit-down meal and must be served to your guests at their table. Sadly, there can be no big wedding breakfast buffets with guests wandering about holding their plate at this time.
Current eating out rules also apply to wedding breakfasts. Current guidelines mean that a maximum of 6 people from 6 different households may share a table. And tables have to be spaced out accordingly with 1+ metres distance between each one.
As per the seating plan for the ceremony, nearer the date when the guests are confirmed, we'll work out who can sit where, and we will arrange tables accordingly. And everything can still be decorated beautifully, because it's your big day all the same.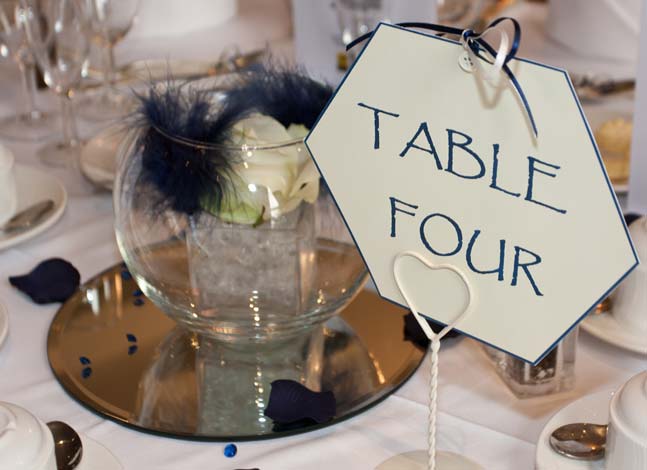 Luckily, there's still plenty of choice for your menu! Our 2 AA Rosette chefs can't wait to work with you to come up with a fabulous wedding breakfast menu. We may have to make some changes from our usual wedding breakfast options as our chefs have to work in a socially distant manner in our kitchens. But we promise it'll still be absolutely delicious.
And our customer service will still be second to none, with table service throughout for any drinks.
Speeches are very much part of a wedding breakfast … but you're best off limiting your talk to a maximum of 5 minutes (some people might be very pleased about that) and current guidelines about limiting the number of touchpoints mean that you can't use projectors, screens, PowerPoint presentations and so on. You might have to get creative and use technology to let guests watch it on their own devices whilst you talk.
The Sandown Suite has a separate entrance and toilets which can be set aside specifically for the use of you and your party, and no other guests will be able to use them.
It might be a very different wedding to the one you had planned, but there are definitely pluses to having a truly intimate wedding with your nearest and dearest. And hopefully, on your Ruby Wedding Anniversary, you'll pop back to Imperial Hotel for old time's sake, and we'll all fondly reminisce about Covid-Secure weddings and civil partnership ceremonies.
Call us on 01493 842000 to discuss your Covid Secure wedding options. We have dates available for this autumn and winter if your plans for earlier in the year fell through, or if you got enaged during lockdown and would like to get married soon.