The haggis has been paraded at Imperial Hotel as part of the New Year's Eve celebrations for more than 30 years and has another outing for Burns Night.
Burns Night is a big event here at Imperial Hotel, usually held on the Saturday nearest to 25 January. It's a celebration of the life and times of Robert Burns, Scottish National poet. The arrival of the ceremonial haggis, also known as the chieftain, is heralded by the bagpipes (played with great enthusiasm by Hotel Director Nick Mobbs) and the haggis is paraded around on a silver platter for all to see by the chef. It's the crowning glory of a Burns Night Supper, and the atmosphere in the room is usually electric!
What is haggis you may well ask?
Peter Clarke, Executive Chef describes the dish: "Haggis has a nutty texture with a good spice level and a deliciously savoury flavour. It is traditionally made from oatmeal, spices, the minced 'pluck' of the sheep (heart, liver and lungs) as well as onions and stock. This mixture is encased in a sheep's stomach, which might turn yours, until you consider that sausages tend to be encased in pig's intestines. It's steamed in water, a bit like a traditional Christmas pudding might be cooked."
Peter has been parading the chieftain for many a year at Imperial Hotel, and fondly remembers that back in the day they always used to serve a quenelle of haggis with a swede purée, which has always been loved by guests at New Year. More recently the dish has been brought up to date with haggis bon bons replacing the quenelle, and being served with a neap and tatty purée (swede and potato mash for those living south of the border) and a mustard and whiskey cream on the side. It's enjoyed equally just as much, and a good thing as it's Peter's preferred method of cooking the dish.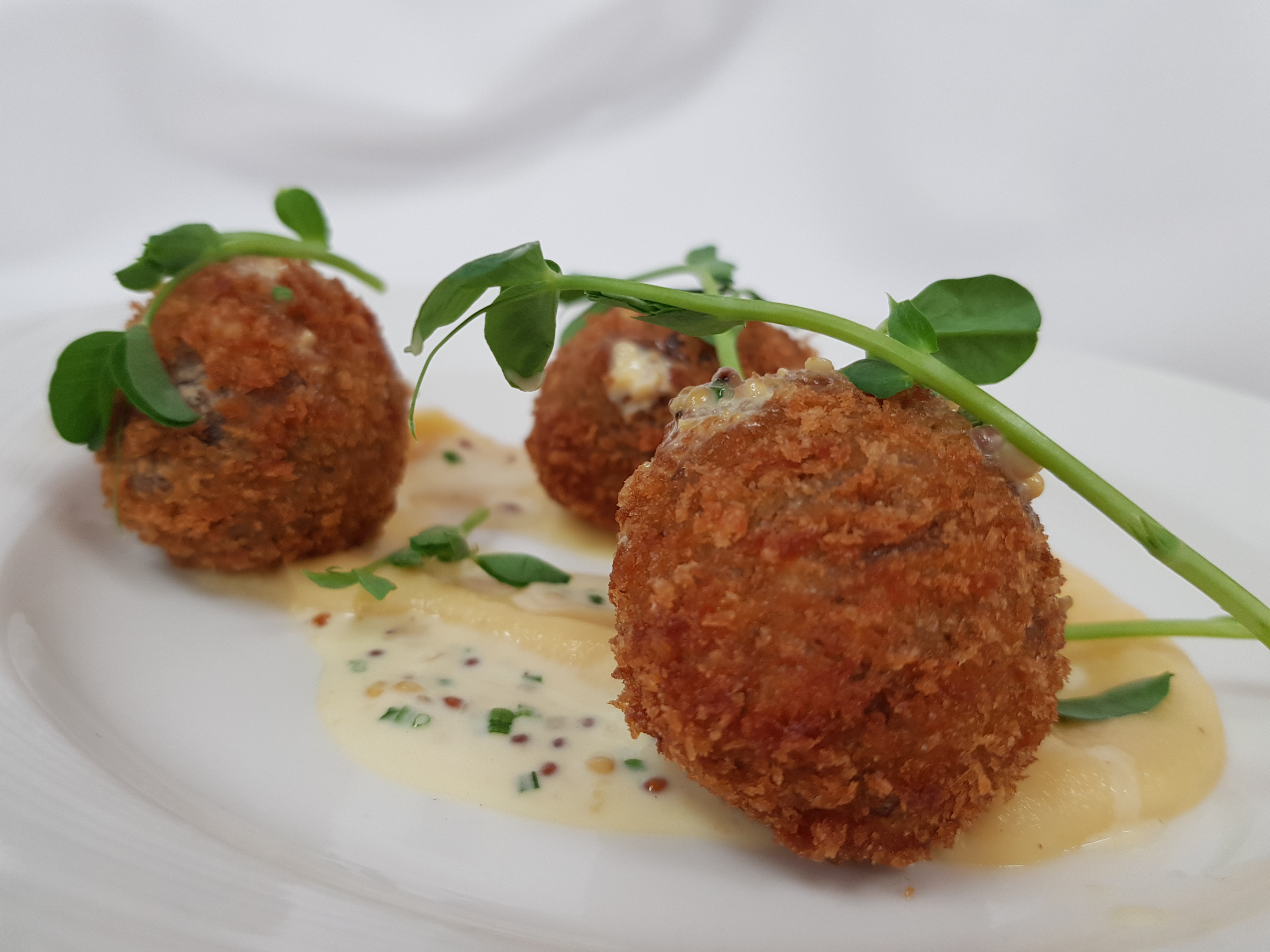 Peter also remembers, with quite a loud chuckle, what happened to him the first time a former Head Chef decided it was Peter's turn to parade the haggis back in the year 2000.
"I was a slightly gullible 16-year-old truth be told, and was duly sent off to take the haggis on a tour of the dining room. As I was leaving the kitchen, the wash-up and Head Chef told me to 'wear this hat as it would make me look more Scottish.' I set off to the bar and both Nick and Aileen burst into loud guffaws of laughter, and enquired if I really wanted to wear that on my head. I replied, 'it'll make me look more Scottish.'
Little did I know until I returned from the parade that I was actually wearing an ice bucket on my head. It certainly got some laughs from the 135-strong crowd that had gathered to listen to Nick play the bagpipes and watch the chieftain be paraded around."
Peter looks back now and belly laughs lots about that night, however he's never fallen for it since!!
He remembers as a young 16-year old in the kitchen that they would always ask what animal is a haggis made from. And they'd be told that it was a small animal with 4 legs and a horn which was slaughtered around Christmastime ready for New Year's Eve and Burns Night, but he doubts he'd get away with that story with today's junior chefs.
When it comes to Burns Night, everyone is served Imperial Hotel's haggis bon bons, finished off with a wee dram of whiskey to toast in the haggis. The whiskey helps creates the all-important atmosphere which takes the evening to the next level. There are many famous Burns Night traditions played out, including the recitation of the famous 1786 'Address to the Haggis' poem by a Scotsman in full regalia, after which the Cheiftan is famously stabbed. If you can make it, it's an evening of fun and laughter, not to be missed!