We love a tradition at the Imperial Hotel, and traditionally, Stir Up Sunday is when households across the land gather in their kitchen to make the Christmas Pudding. It's another tradition for which we have Victorians with hungry tummies to thank. The Christian faithful in Victorian times were inspired to don their aprons and get straight into their kitchens on their return from church on the last Sunday before advert thanks to the Common Book of Prayer, which starts with the words: "Stir up, we beseech thee, O Lord, the wills of thy faithful people.' This couldn't possibly mean anything else to the congregation other than to stir up something delicious in the kitchen.
The Great British Bake Off hadn't even been thought of and everyone's thoughts were already turning to cake! Or Christmas Pudding in this instance. In 2019, Stir Up Sunday will be on 24 November, so there's plenty of time to gather your ingredients - see our receipe below - and get ready if you fancy cooking your own.
Truth be told, if we waited until Stir Up Sunday to start making our Christmas Puddings, the chefs would probably be frantic. We tend to make at least 75 puddings in readiness for the festive season - just the one wouldn't quite cut the mustard given the number of Christmas meals we will be serving up in one of our Norfolk restaurants from 4 December onwards.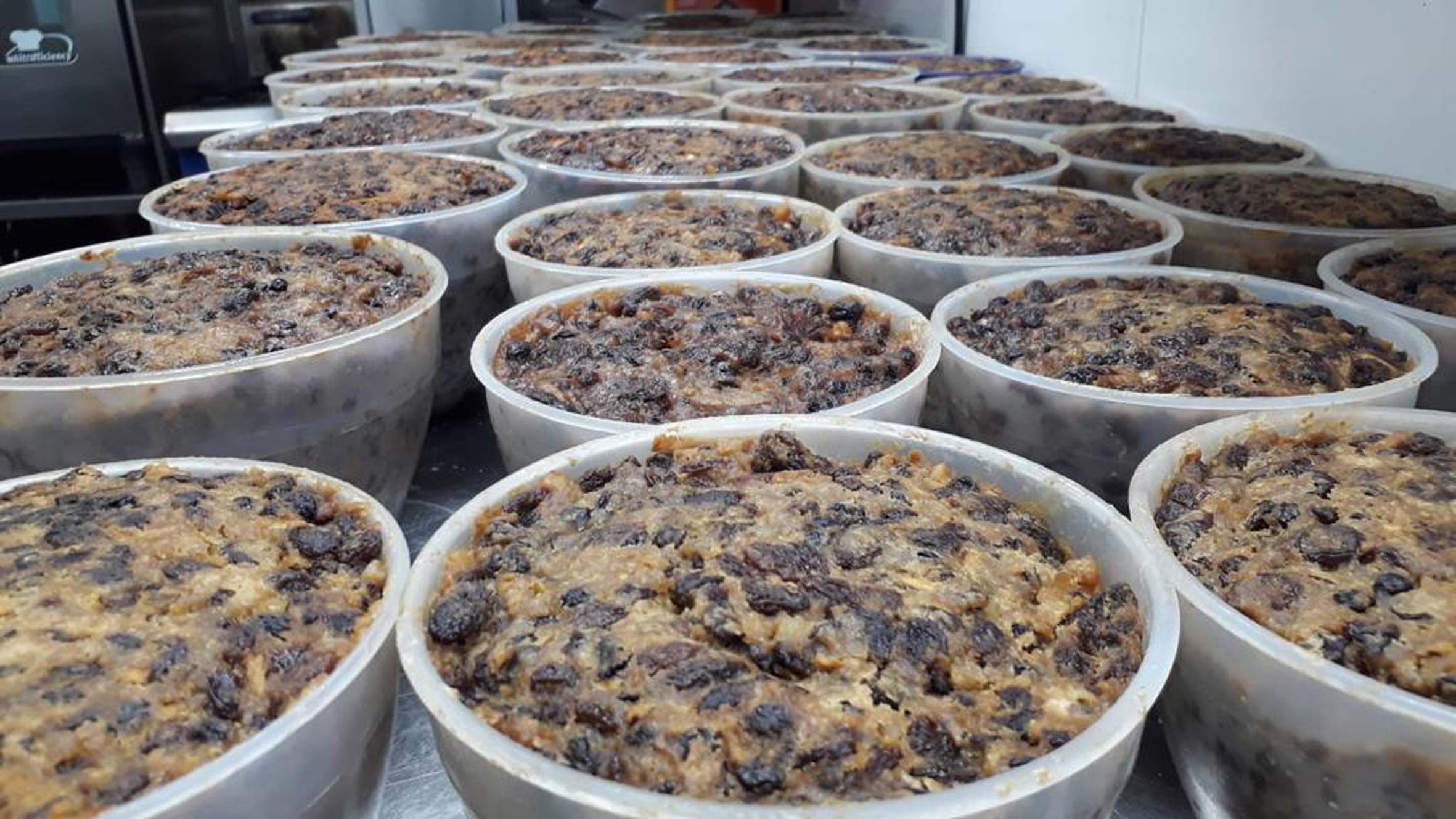 There are all sorts of traditions to do with Stir Up Sunday, from stirring the pudding in a clockwise direction and making a wish, reminding us of the Nativity Story and the Wise Men who saw a star in the east before visiting Jesus, to using a recipe with 13 ingredients to represent Jesus and his 12 disciples, and decorating the pudding with a garnish of holly to represent the crown of thorns Jesus wore on his head when he was crucified.
Given the vast quantities of pudding mixture made at the hotel, we employ more of a sifting motion than a stirring motion, but we still like to make a wish for the hotel to have a good festive season over the mixture. Our recipe, which dates from before World War II, has 16 different ingredients, and you'll find that our puddings tend to be garnished with nothing other than lashings of brandy sauce. Holly berries are toxic to humans, so are best avoided when it comes to food.
As you might have seen in November's edition of the EDP Norfolk Magazine, the Imperial Hotel's Christmas Pudding has been mixed, cooked and steamed the Imperial way, to the same mouth-watering recipe for the last 72 years. As with many things at the traditional Great Yarmouth seafront hotel, the pudding recipe comes with a story attached, told to third generation Nicholas Mobbs and his chefs Peter Clark & Daniel Lawrence by Nick's parents, Jill and Roger Mobbs.
Hills was a well-known catering firm in Great Yarmouth, which operated before the Second World War, running a seafront hotel, a restaurant on King Street and an outside catering company.
In 1945, after the war finished, Nick's maternal grandparents, Campbell and Louisa Lindsay, reopened the Imperial Hotel. The building had been requisitioned by the Ministry of Defence during the war and used for many purposes, including as a secret telephone exchange. In 1947 Campbell employed Herbert Bayfield, a chef who had worked for Hills who brought with him a stained and batter splattered Christmas pudding recipe. The recipe was put into use that very December to great acclaim. This tried and tested recipe has been cooked every Christmas at the Imperial Hotel since.
Unsurprisingly, the recipe sheet that today's chefs, Peter Clarke and Daniel Lawrence, follow has had to be rewritten a number of times, as the recipe tends to get pudding mixture dropped on it, especially when you're working with 21 kilograms of dried fruit and 80 eggs at any one go.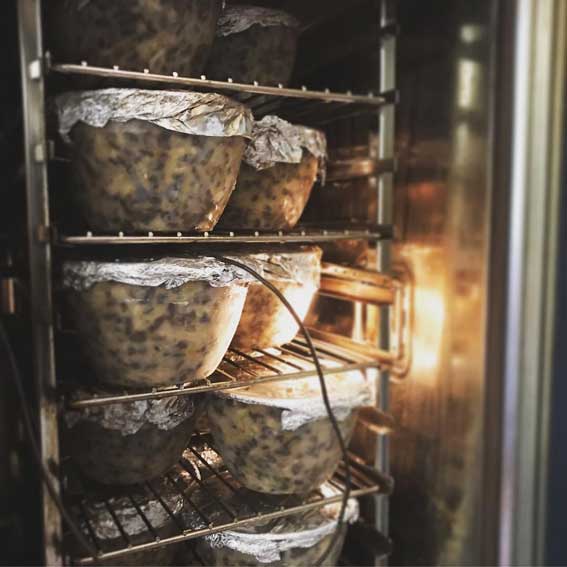 Peter explains: 'We make the Imperial Christmas pudding to the same recipe and in enormous quantities every year, it's a great testament to how the recipe has stood the test of time and is loved to this very day. This year we've finally translated the weights and measures into kilograms and grams rather than pounds and ounces.
"The kitchen doesn't have a mixing bowl large enough for the enormous amount of pudding mixture that we make at the hotel, which gives us a little over 450 portions, or about 75 puddings. To make such huge quantities, we cover a large table with film and mix the ingredients together directly on the work surface, using our hands as giant spoons. It's a good job that us chefs love nothing better than to get our bare hands on lovely fresh ingredients! I personally feel honoured to be able to follow in the footsteps of the many acclaimed chefs that have made the Imperial's Christmas puddings over the last 7 decades at the Imperial Hotel and in all honesty, it's great fun too."
We can't imagine that anyone at home would want to make so many puddings in one go, so we've done some calculations to make a recipe more suitable for 8 very hungry people or a large family of 16.
The Imperial Christmas Pudding recipe
125g self raising flour
½ tsp salt
¼ tsp nutmeg
65g Demerara sugar
1½ tbsp round almonds
200g suet
200g fine breadcrumbs
275g currants
275g sultanas
500g raisins
65g mixed peel
2 eggs
1 cooking apple, grated
Zest & juice of ½ orange
85ml stout (ideally Mackeson as its not too sweet)
Method:
1. Butter a 2.4 litre (4pt) Christmas Pudding bowl with butter (clarified butter if possible).
2. Crack the eggs into a medium-sized mixing bowl. Add the grated apple and mix until the apple is covered in egg so it doesn't go brown. Add the orange juice and zest to the egg and apple mixture, then add the stout. Mix it all together and put this bowl to one side.

3. In a very large mixing bowl, combine the self-raising flour, salt, nutmeg, demerara sugar, ground almonds and suet together. Add the breadcrumbs and mix the dry ingredients together well.
4. Add the currants, raisins, sultanas and mixed peel to the dry ingredients. Mix very well, making sure there is an even distribution of fruit to the flour and breadcrumb mixture.
5. Make a well in the centre of your dry mixture. Slowly pour the egg, apple, orange juice and stout mixture into the well. Stir thoroughly, turning and turning and scraping down the sides with a spatula until you have a quite wet, brown, pale mixture littered with fruit.
6. Pour the Christmas pudding batter into the buttered Christmas pudding bowl, right to the top. Make sure you scrape out as much mixture as you can.
7. Put a double layer of foil on the top. Steam for 5 hours until the pudding reaches a core temperature of 85?c and the colour has changed to dark brown. Alternbatively a slow cooker is a great optoin for steaming your pudding - set it on high for about 6 hours.

For the Brandy Sauce
To make 2 pints of brandy sauce
1140ml (2 pints) milk
100g butter
100g plain flour
Sherry, Brandy and sugar to taste.
Brandy Sauce Method
1. Bring the milk to a rolling simmer in a pan.
2. In a small, thick-bottomed pan, melt the butter then add the flour. Stir and cook the flour out over a medium heat until you have a sandy texture.
3. Add the warm milk, a ladle at a time, stirring gently and cooking the milk out as you go. Once all the milk has been incorporated, you should have a shiny, lump-free sauce.
4. Now use the brandy and sherry as your seasoning, together with some sugar. You can put in as much as you feel comfortable with. I like a little more than the average person; you will be surprised how much the white sauce takes.
5. Portion the Christmas pudding into bowls, add lashings of sauce and enjoy.