When thinking of Christmas, the carousel of images in your head will certainly include a Christmas Pudding.
When people don't like it or pass it over on the big day, we lash ourselves to the mast of traditionalism and plead with them. "No!" we cry, "you must, you simply must have some!".
Why? For one, Christmas pudding (when done right) is delicious. 99.999%* of us agree on that. Two, it's a patriotic thing. It's something we started first. The humble Christmas pud is as British as the Queen herself.
If you don't eat it, well then, tut tut…how about some Christmas cake?
*Source: the national database of Christmas pudding opinions.
Origins of Christmas Pudding
Also known as figgy or plum pudding. Apparently, plum, was a pre-Victorian word for raisin. No plums in sight.
It's thought that Christmas pudding may have evolved from frumenty, a type of medieval grain porridge.
Frumenty was often created with venison, currants, wines, spices and relied upon as a staple meal by poorer people. Over time, eggs, breadcrumbs and dried fruits were added – giving it more flavour (meat was removed, thankfully).
Slowly, frumenty morphed into plum pudding, which in the 17th Century became a customary Christmas dessert. By the Victorian era plum pudding had become for the most part the festive pudding we know and love today – complete with a sprig of holly on top.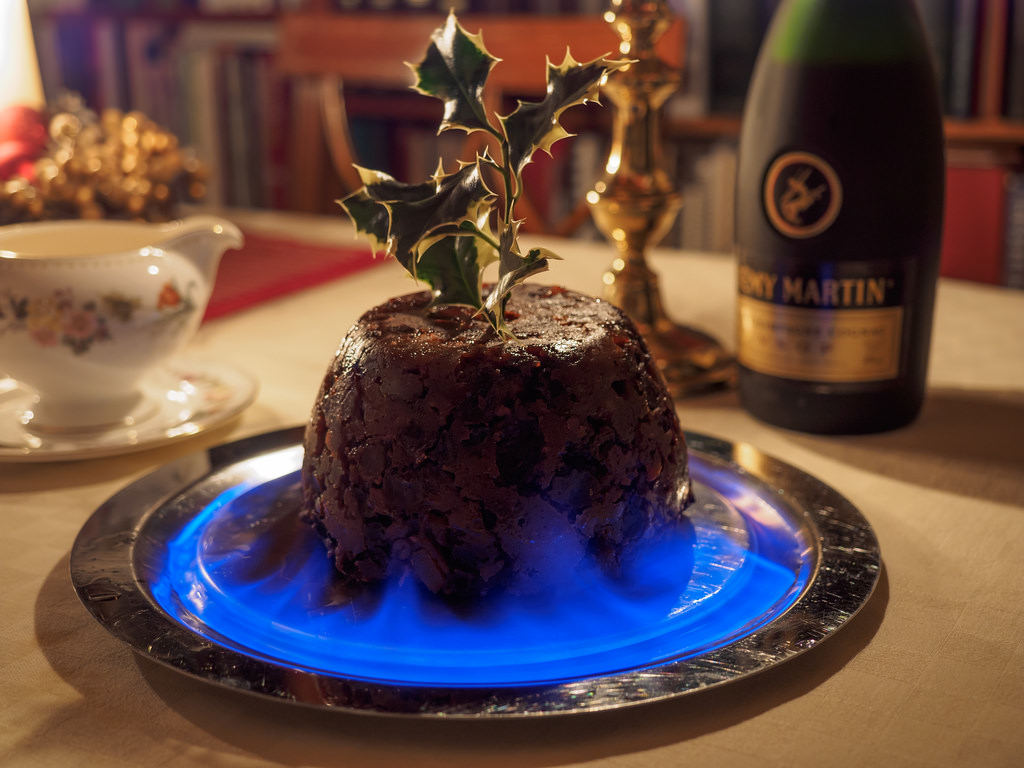 Here's an extract from Charles Dickens' classic tale A Christmas Carol 1843 –
"Mrs Cratchit left the room alone – too nervous to bear witnesses – to take the pudding up and bring it in... Hallo! A great deal of steam! The pudding was out of the copper which smells like a washing-day. That was the cloth. A smell like an eating-house and a pastrycook's next door to each other, with a laundress's next door to that. That was the pudding. In half a minute Mrs. Cratchit entered – flushed, but smiling proudly – with the pudding, like a speckled cannon-ball, so hard and firm, blazing in half of half-a-quarter of ignited brandy, and bedight with Christmas holly stuck into the top."
It was this passage that helped galvanise the pudding as a firm part of a family Christmas – a special treat, offered up theatrically to those we love after a hearty roast dinner.
What it Symbolises
It's hard to imagine basic ingredients such as allspice, sugar, raisins and mixed peel being expensive luxuries. These days global trade routes were never stronger and making (or buying) a Christmas pudding is a minor financial commitment. We have access to ingredients from all over the world at an affordable price.
In previous eras, for many, Christmas pudding was a genuine treat – rather than a metaphorical one. Plus, the fact it's rich and indulgent made it the perfect symbol of a happy, relaxed Christmas. A time to forget austerity, remember family and have a joyous day.
Christmas Pudding Sixpence
Not all puddings are surrounded by customs, but something which has been around for hundreds of years picks some up.
The most famous custom was the addition of a silver sixpence to the Christmas pudding mix – popularised in the Victorian era. Whoever received the piece with the coin kept it, and supposedly, it would bring them wealth in the coming year.
The irony of including a choke hazard as a form of good luck is not lost on us in the 21st Century – so we no longer bother with this custom.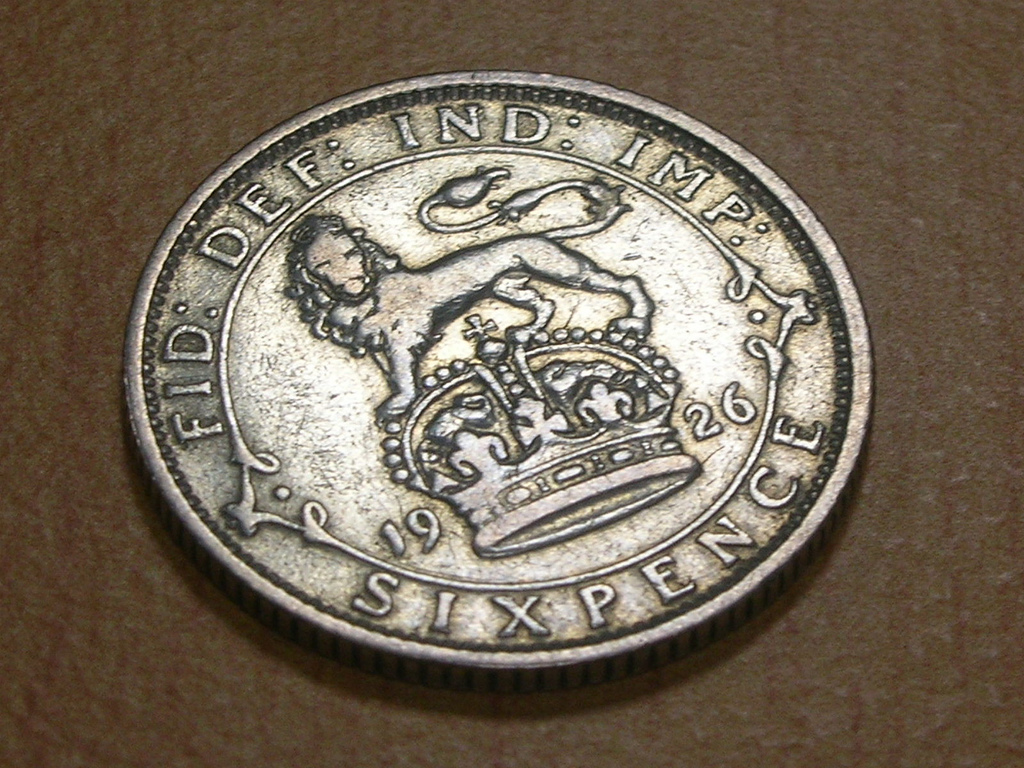 71 Years of Christmas Pud at the Imperial
The making…no, the grand feat of culinary engineering that is our Christmas pudding is something to behold. Forty kilos of dried fruit and 150 eggs make it huge –capable of feeding 450 merry people.
Where did it all begin?
The Imperial Hotel has been run by the same family since the 1930s, first taken on by Campbell Lindsay, and now helmed by his grandson Nick Mobbs and wife Aileen. In the intervening years the world has modernised, hospitality trends have evolved, and new people have graced the hotel.
However, there's one constant. One thing that's remained the same for almost two thirds of a century. The Imperial's Christmas pudding recipe. It was created by Herbert Bayfield, the first chef of the Mobbs owned Imperial and is still a firm favourite with our festive guests.
You'll have to come and try some (of course, you knew we'd say this!).
Imperial Brandy Sauce Recipe
It's not just about the pudding. It wouldn't be complete without a silky, rich brandy sauce. For some, this is their favourite bit.
For any keen cooks, we have a gift for you. Our brandy sauce recipe – which should give your Christmas some extra warmth.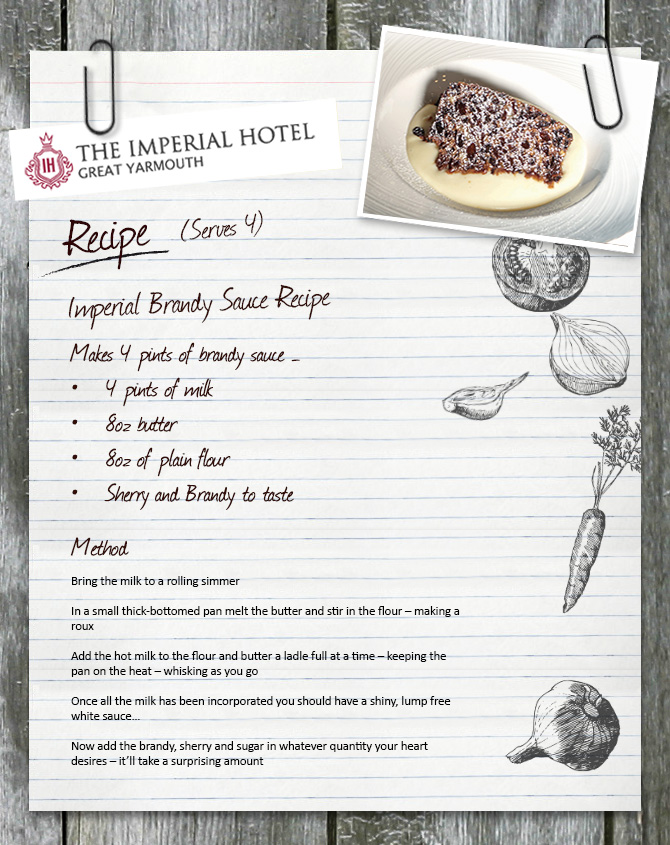 There we are, if you choose to make our brandy sauce this Christmas – we hope you enjoy it as much as our guests do.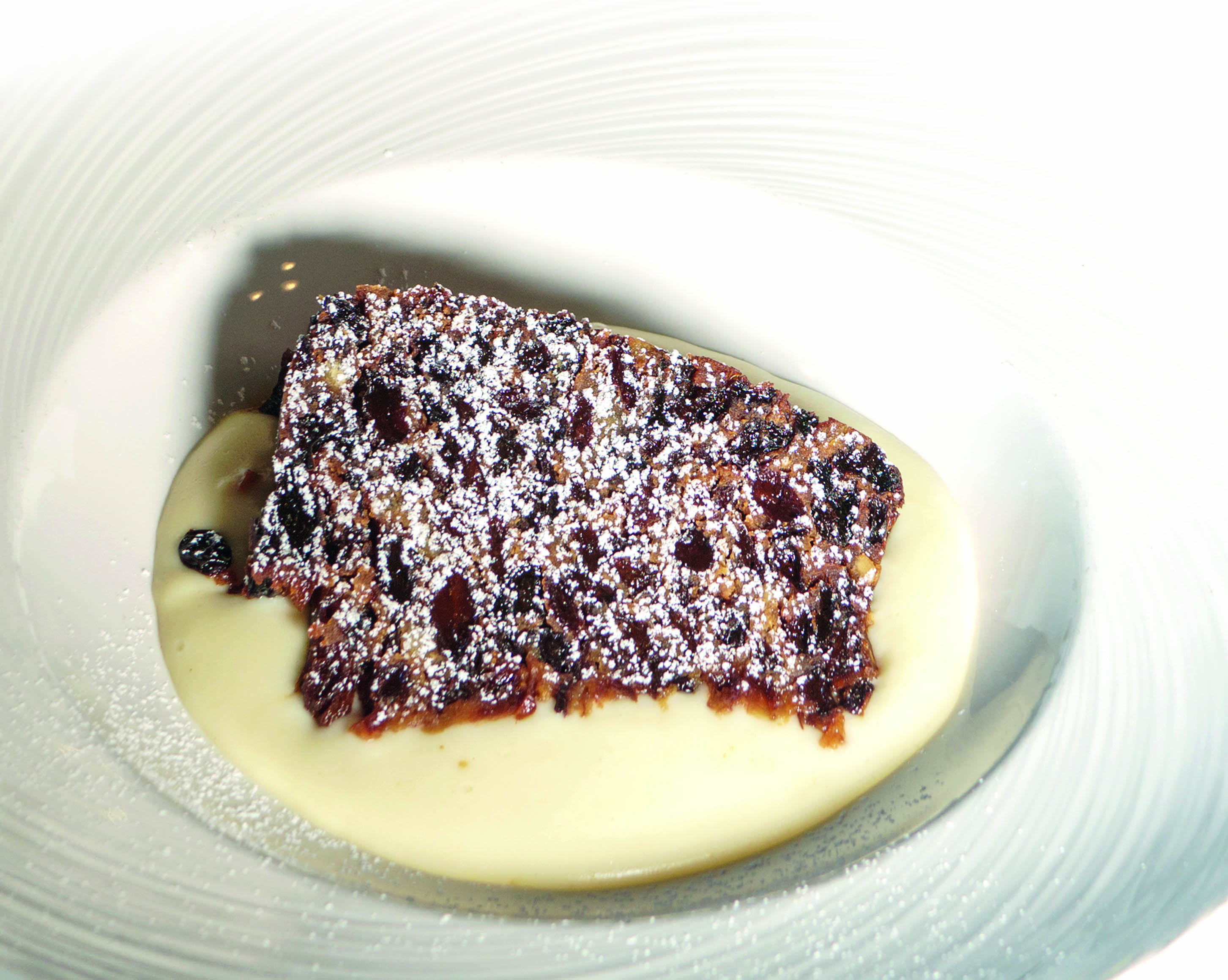 Winter Warmer for Two
Great Yarmouth is a lucky place. Not only is it on the beautiful Norfolk coast, it's right by the Broads – an iconic British landscape attracting thousands every year.
But perhaps you don't want to pay a visit in peak holiday season. Perhaps what you want is a peaceful, cosy and refreshing winter break – with great food and romantic sea views.
How about miles of pure sand beach, with barely a soul in sight? Just you, your partner and your dog (if you want).