It's a very strange world where the hotel and the restaurants are all closed to the public. We can't really think of a time when our kitchens have ever been so silent, our ovens cold and no-one able to enjoy the view from The Terrace.
Our hearts were gladded and our spirits lifted when we saw the Baking A Difference initiative bringing smiles to key-worker's faces, right across the local area. It's incredible to see what some people decide to do in the face of adversity, and we wanted to lend a hand.
The Baking-A-Difference team are delivering little sweet treats in the form of lovely little cupcakes to all sorts of keyworkers, from hospital staff to binmen, from bus drivers to teachers, as well as staff working in carehomes, pharmacies and doctors surgeries, and people working in food shops and supermarkets during this coronavirus crisis.
When Operations Manager Grant got in touch, they asked if we could rustle up 270 cupcakes for the domestic staff at our local hospital. Head Chef Peter volunteered to dust down the baking trays and fire up the ovens. And two of our lovely suppliers got in touch to say that if we'd do the baking, they'd donate some ingredients. Did you know, 270 cupcakes need an 80 egg sponge mixture? And quite a large whisk. We'd like to say a huge thanks to Yarmouth Meat Traders who donated all the eggs and South Lincs Foodservice who donated all the flour and sugar.
The one thing Peter didn't mention before he got started was that he doesn't usually do the baking at home. The nearest he gets is making cookies with the kids. Apparently it's his lovely wife who tends to do the cake baking. "I've never dreamt of baking 24 cupcakes, let alone 270!" he said.
Hmmm, so making and baking 270 cupcakes is slightly out of Peter's comfort zone, despite him being part of an award-winning 2 AA Rosette team of highly qualified chefs! But it's good to have a challenge. What could possibly go wrong?
Just for fun we took some pictures of Peter's baking session. It turns out he quite enjoyed it. It's not often he gets the hotel kitchen to himself.
With nothing else going on in the kitchen, Peter was able to use our huge prep table to spread out all the cupcake trays he'd managed to source.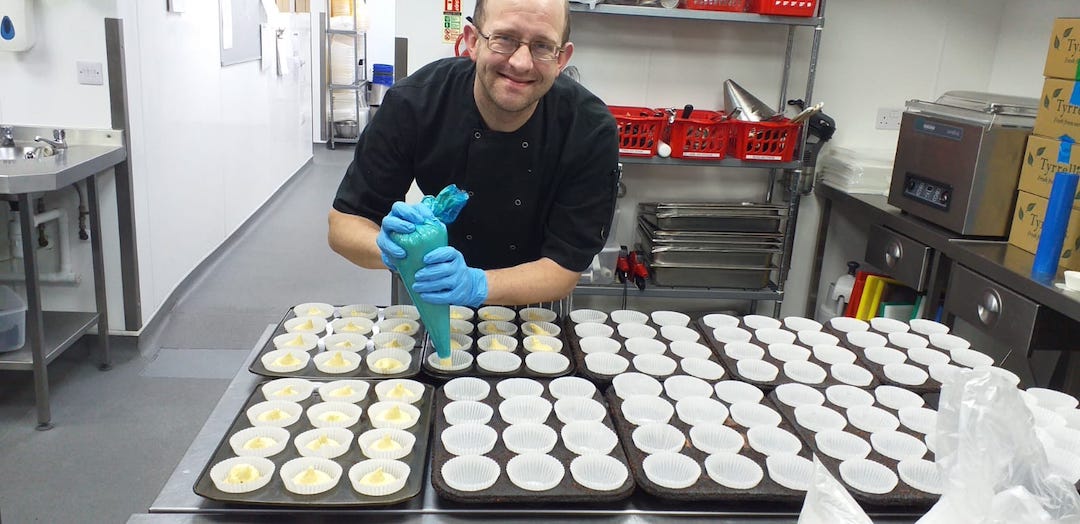 And then in the oven. Our specialist ovens can take several more trays than a standard domestic one, and can cook things a little more evenly. The enormous size of our ovens meant that Peter was able to bake about 100 cupcakes or so at once.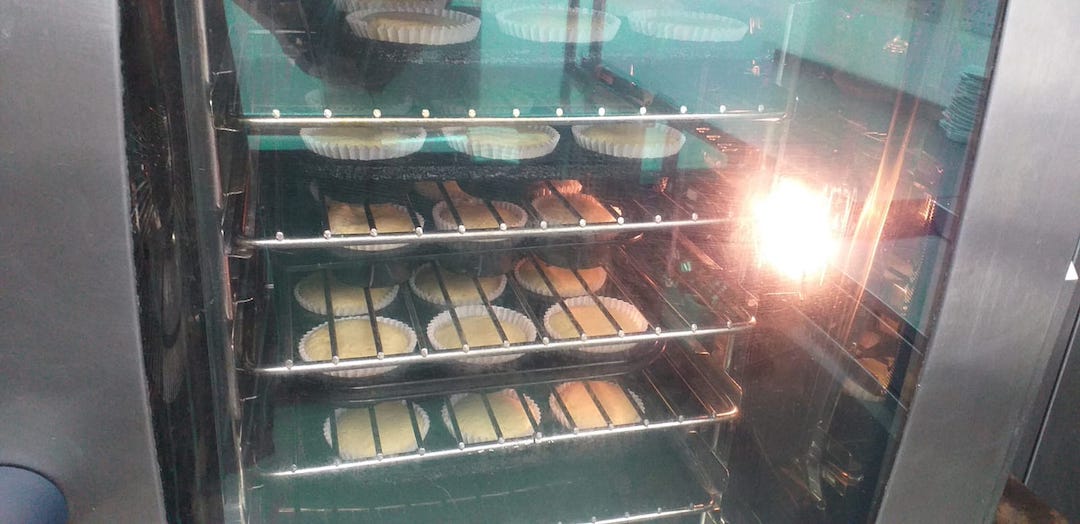 Luckily there's plenty of space in our kitchens for them all to cool before being iced. And the verdict? Not at all bad - Mary Berry or Prue Leith from the Great British Bake Off would maybe comment that one or two aren't as even as the others. But they're usually only judging a dozen, not twenty-three dozen!
There's a lovely rise on them too, pretty good for a chap who was feeling a little bit daunted by the prospect of baking 270 beautifully, delicate little cupcakes.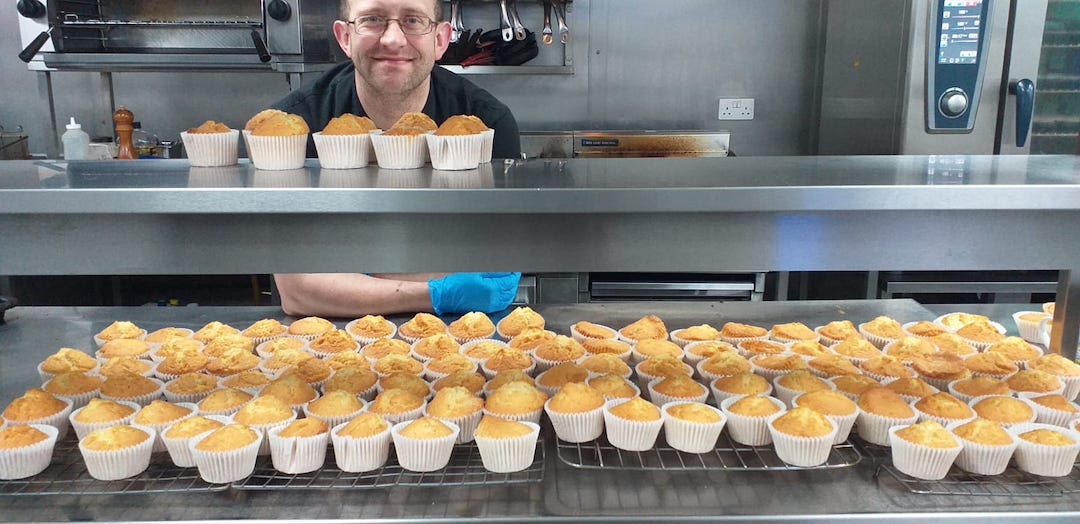 And then, the buttercream. Apparently the technique for icing buns is not at all similar to the dots and daubes, foams and jus Peter and Executive Chef Daniel add to à la carte dinners and desserts they'd usually be creating when we are open. But ideally, if you can, it's all about getting them to look as identical as possible.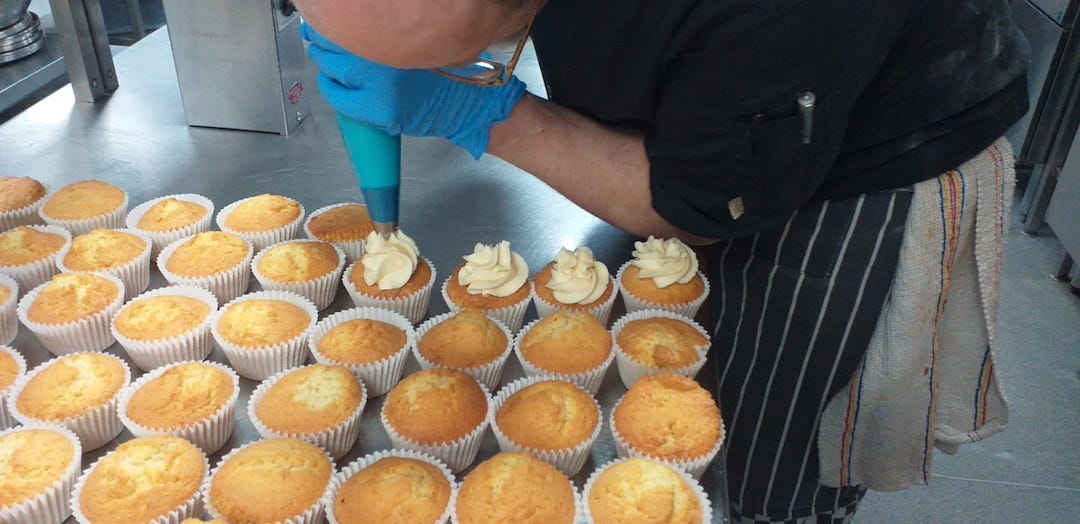 Then it was just a case of popping Baking-A-Difference's well wishing toppers on, ending up with a really colourful bake.
And now they are ready for collection by the incredibly thoughtful, kind and caring Baking-A-Difference team, so they can deliver them to the Domestic Team at James Paget Hospital.
Everyone at Imperial Hotel sends them with love and huge thanks for everything they are doing to keep James Paget Hospital up and running and able to care for so many patients in these very difficult times.
If you know of a team of key-workers who could do with a boost, you can nominate them on Baking-A-Difference's FaceBook page: https://www.facebook.com/groups/223434205391729/
And if you're a baker, you might be able to volunteer to bake, or if you can drive and have a car, you can volunteeer to deliver. They also accept ingredient donations and cupcake cases. You'll find all the information on their FaceBook page. And if you'd rather donate money for ingredients, they have a Go-Fund Me page too.
It's a good job they turned out so well.
Truth be told, the baking session didn't quite go completely to plan. There was a slight incident with the whisk and a flour cloud when Peter forgot to put the guard on the mixer .... he did say that he wasn't used to baking! He's cleaning the kitchen now. That'll take a while.